It's an annual, and exceptionally beautiful, rite of spring.
The Canadian Tulip Festival had its origins in the horrors of war. The Dutch Royal Family escaped from the Nazi invasion in May 1940. A month later  Princess Juliana and her daughters travelled by ship to the safer haven of Canada. They took up residence in the national capital in the house called "Stornoway", which is now the residence of leaders of the official opposition party.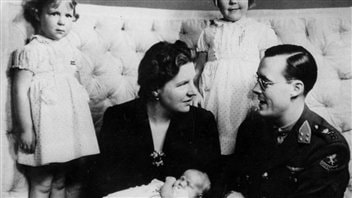 While in Canada, in 1943, the princess gave birth to another daughter, Margriet, at a hospital which had temporarily declared as "extra-terrestrial" by the federal government to ensure the child would have Dutch citizenship.
After the war, in gratitude, the Royal family sent 100,000 tulip bulbs to Ottawa, and 20,000 the following year to be planted at the hospital.  When she became Queen in 1948, Juliana continued to send thousands of tulip bulbs every year in an ongoing show of gratitude for providing safe haven for family, but also as a display of gratitude for the Canadian's heroic efforts in liberating the Netherlands in the Second World War.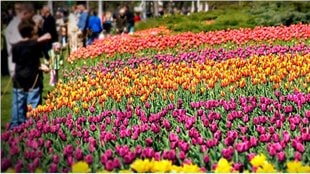 Of course, over the years such a huge and magnificent display of colours garnered widespread media attention, and in 1953 the display became officially known as the Canadian Tulip festival to be held each May,
It has now become the largest tulip festival in the world and attracts some 500,000 people to the national capital each spring who come to admire the one million or so tulip in a variety of colours all along the tulip route.  In addition there is a wide variety of musical performers and events and activities throughout the 18 day festival which began on May 3rd and runs to the 20th.