First Nations in Canada are getting more control over their education system and more money to fund it. Currently, aboriginal parents wanting to provide their children with a good education, generally have to move to the larger urban centres, and away from their communities to do so.
Today Prime Minister Stephen Harper met with several Chiefs, including Sean Atleo, leader of the Assembly of First Nations, to announce proposed changes to the First Nations Education Act.  They met at the the Kainai High School on the Blood Tribe reserve north of Cardston, Alberta.
Education is a major issue for Canada's First Nations, as they continue to address the horrors of the former Residential  Schools.  The system operated for several generations, as an often brutal attempt to integrate First Nations children into the white settler system.  Children as young as 4 and 5 were taken from their families and put in boarding schools, in some cases for years.
First Nations control of First Nations education
These days, the schools that were built on many reserves are in poor condition and the staffing and attendance rates are dismal.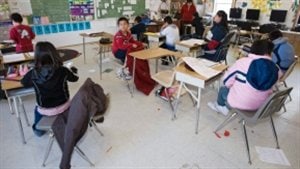 The government has designated $1.25 billion over three years beginning in 2016 — an amount Stephen Harper pledged would increase by 4.5 per cent each year after.
The new legislation would require teachers on reserves to acquire provincial certification and include measures to improve attendance records and improve low graduation rates on reserves.
First Nations have fought for control over education and a recognition of their languages and culture in curriculum, since the 1970's.  Harper said today's announcement is part of a "historic" agreement with the AFN that will address those issues.  And the government wants the new act to be in place in time for the next school year in September 2014.