We have mobile phones, tablets, and apps for things that most people can't even imagine.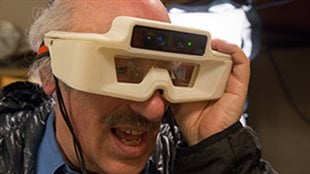 However, some people have given themselves over completely to new electronic devices.  There's even a movement called the Quantified Self (QS) where people  monitor, record, and analyze every aspect of their lives, from food intake, happiness levels, to sexual activity, and share it online.
However, many people don't realize that governments and companies, including insurance companies, are mining the net for exactly such data, while those in the QS movement seem not to be concerned at all.
In fact some people spend so much time with their devices they lose real friends and family, exhibiting completely classical symptoms of addiction (see below.
In this hour-long documentary, Montreal author, columnist, and flimmaker  Josh Freed  shows that there are now- de-addiction  or "de-tox" camps where people go to break their digital addiction.
He also points out that as people post all kinds of personal data online, there are other entities out there collecting this highly personal information online, with the potential for it to come back
The show will air on the domestic CBC show "DocZone" on March 12.
Classic symptoms of Drug addiction behaviours-with "device" added as an example of possible "data" addiction:
–      Feeling that you have to use the drug regularly — this can be daily or even several times a day
–      Having intense urges for the (drug-alcohol-electronic device)
–      Over time, needing more of the  (drug-alcohol-electronic device) to get the same effect
–      Making certain that you maintain a supply of the (drug-alcohol-electronic device)
–      Spending money on the (drug-alcohol-electronic device) even though you can't afford it
–      Not meeting obligations and work responsibilities, or cutting back on social or recreational activities because of  (drug-alcohol-electronic device) use
–      Doing things to get the (drug-alcohol-electronic device)  that you normally wouldn't do, such as stealing
–      Driving or doing other risky activities when you're under the influence of the (drug-alcohol-electronic device)
–      Focusing more and more time and energy on getting and using the(drug-alcohol-electronic device)
–      Failing in your attempts to stop using the (drug-alcohol-electronic device)
–      Experiencing withdrawal symptoms when you attempt to stop taking the (drug-alcohol-electronic device)
Trailer for the documentary "Deluged by Data"