Right-on-red-light turns are not allowed on the island of Montreal. The surrounding municipalities, however, have no such ban.
Now 15 mayors of the island's municipalities, are asking for a change in the law.  They say it would speed up traffic.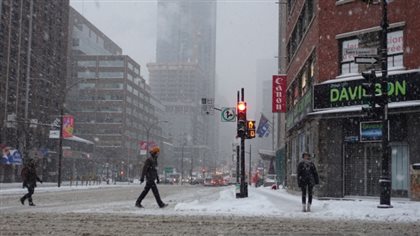 Robert Coutu, Mayor of Montreal East, is one of the 15 mayors in favour of the change.
"It's a matter of time and money, because every time we stop it takes 15 seconds," he told a CBC reporter.
Since 2003 the turns have been allowed in many places in Quebec, but not yet in Montreal, the province's largest city.
Road safety advocates and groups representing the visually impaired and seniors are firmly against it.
The mayors say 1,550 of 2,587 intersections on the island would be suitable for right on red.
They commissioned an online survey of 1,000 Montrealers in November about their thoughts on the proposal, and 73 per cent of respondents were in favour.
According to statistics, turning right on red is no longer the danger it was thought to be, Coutu said.
Allowing the manoeuvre with some restrictions, he said, such as not at busy downtown intersections, would be a safe way to improve traffic flow in Montreal.
The mayors say reducing idling time at red lights would also burn less gasoline and reduce pollution.
Denis Coderre, Mayor of Montreal, is not among the group but he supported making right turns on red lights legal on the island during the last election campaign.