Jared Kushner, a very close adviser to President Trump, and his son-in-law, will be in Calgary, Alberta tomorrow, to address the federal government's cabinet retreat.
'he's very good at politics'  
Prime Minister Justin Trudeau convened the gathering of ministers to prepare for the upcoming renegotiation of the North American Free Trade Agreement (NAFTA).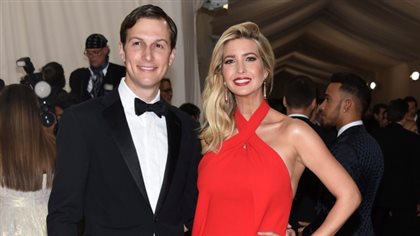 Kushner was named as a senior adviser to the President. During the election campaign Trump had publicly praised his daughter Ivanka's husband, saying 'he's very good at politics.'
Ministers are receiving the news of Kushner's visit, announced this morning, as good news.
​"I think that underlines the high importance of the relationship, not just to Canada, but to the United States," Public Safety Minister Ralph Goodale said, according to CBC News.
Jim Carr is Canada's natural resources minister. He said recent meetings with U.S. politicians, including congressmen, senators and members of the new president's transition team, have been positive so far, even as the protectionist rhetoric from Washington gets louder.
Carr told CBC many of the U.S. politicians understand the unique importance of the Canada-US economic relationship.
"I think people realise that the economy between Canada and the United States is very much integrated, and that when we create important jobs it benefits both sides of the border," Carr said.
Chrystia Freeland, now Canada's global affairs minister, was up until December the trade minister. She had created personal relationships with several key-members of the fledgling Trump administration, including her "long-time friend" Stephen Schwarzman.
Schwarzman, chief executive of the Blackstone Group, a U.S. global investment firm, was appointed to head Trump's Strategic and Policy Forum in December will be speaking to the meeting today.
Canadian Dominic Barton is also speaking to the Prime Minister and his inner circle. Barton is the managing director of the global consulting giant McKinsey and chair of Finance Minister Bill Morneau's economic advisory panel.
Jared Kushner married Ivanka, Trump's eldest daughter, in 2009. Ivanka converted to Judaism to marry Kushner and they are raising their three children in the Orthodox Jewish faith.