Jeff Dahn, of Dalhousie University in Halifax, Nova Scotia, won the Herzberg Medal and the million dollars in prize money that comes with the honour.
The award is presented by the Natural Sciences and Engineering Research Council (NSERC). It was announced today along with several other honours.
A member of the Department of Physics and Atmospheric Science at Dal, as it's affectionately known, Professor Dahn works with a team of about 25 people: undergraduate assistants, graduates and post-doctorates, in a 5,000-square-foot laboratory. It's a hive of activity with machines humming around the clock.
"I often tell my students our role is not to publish papers in Science and Nature; it's to do something useful. And I think getting this award really recognizes the fact that we have accomplished some things that have been useful and valuable to society."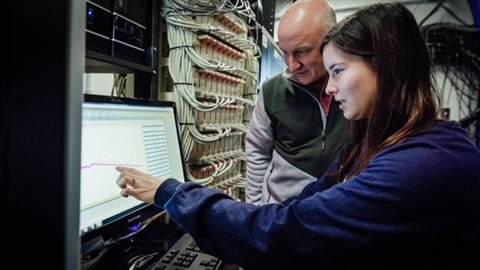 Lithium-ion batteries are common in every day use in smartphones, laptops and to the increasingly popular electric car. Dahn has had a major role in making these batteries more efficient.
Now Dahn is working with Tesla, the American electric car company, aiming to make a battery that lasts 30 years.
"No matter what electric chemical energy storage technology you pick… they have to last many decades to be viable for our planet," Dahn told CBC News. "Germany has said that by 2050 they're going be 100 per cent renewable. Well, how are they going to do it? How are they going to use solar and wind and storage to do it?"
Dahn's research is centred on "unwanted parasitic reactions," which reduces battery life.
"Our job is to make them zero," he said. "And it's very tough."
Last year Tesla Motors entered into a five-year partnership with NSERC and Dalhousie University, creating the NSERC/Tesla Canada Industrial Research Chair, headed by Dahn.
It is Dahn's second chair: he held the NSERC/3M Canada Industrial Research Chair in Materials for Advanced Batteries at the university from 1996 to 2016.
Tesla is at the forefront of grid-energy and electric vehicle research and it is the first time the company has partnered with a university researcher.
It's the ideal partnership for Professor Dahn. Like Tesla founder and CEO Elon Musk, Dahn sees the need to shift to renewable energy technology.
"At this moment, we've been working with Tesla only for six months so far, and none of our research has made it into their products yet, but I'm quite confident that our work will be incorporated in their products going forward, and that's pretty exciting for us." Dhan said.
While Dahn won a Governor General's Award for Innovation in 2016, and is the co-inventor of more than 65 inventions, and helped develop technology to test the lifespan of batteries, he modestly believes he has played a small part in battery research.
"A lot of people ascribe the success of lithium-ion cells way too much to me and my group," he said. "We've made small contributions along the way that have been important, but many, many other labs around the world and companies too have done a lot."
Jeff Dahn, has partnered with Tesla Motors in an effort to improve lithium-ion batteries used in its vehicles. (Martin Lipman/NSERC)