CETA, the Comprehensive Economic and Trade Agreement, between Canada and the European Union, went into effect today.
Now 98 per cent of the Canadian goods going to the 20 trillion dollar market, will arrive tarriff-free, compared to only 25 per cent of goods yesterday.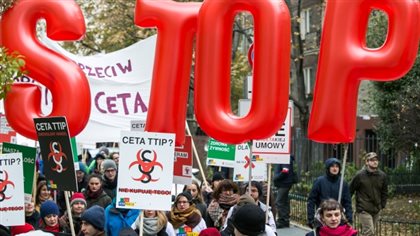 The 18 per cent tarriff on shoes and clothing drops to zero, the same for Belgian chocolate.
The good news for Canadians is the access and cheaper prices expected for many products coming from the EU, including some exquisite cheeses.
Todd Evans is a principal at Export Development Canada Economics.
He said the agreement gives Canadian companies access to their second-largest trading partner after the United States just when the doubts about where trade relations with the U.S. are going.
"It's very, very important for Canadian companies, especially nowadays when a lot of companies are really thinking of diversifying their export business given the uncertainty they're seeing south of the border." he said.
Canada exported $42 billion worth of goods last year, but this new agreement codifies access to services which were worth an additional $18-billion for Canada in 2016, according to Evans.
"A lot of people, when they talk about trade, they tend to focus on just the merchandise goods trade. That's still the bulk of our trade but services are growing quickly."
We'll look into the pros and the cons of the deal and watch for reaction in Canada, particularly in the dairy industry.