Cape Dorset (Kinngait) – Montreal via Ottawa – We woke up today to blue skies, mild weather. For the first time since we arrived, Cape Dorset looked fantastic.
It was also the day we had to go.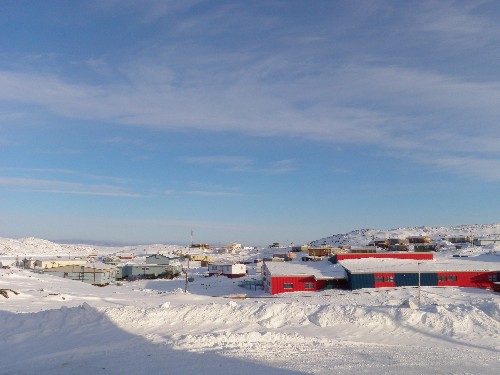 First thing, we load our gear into the truck for the very last time. Cape Dorset was fascinating. Warts and all, it's still such a special place. Filled with more than its fair share of eccentric characters, for sure, but maybe it's that eccentricity that's allowed art here to thrive so successfully and for so long.
While we're waiting at the airport, I realize for the first time that I didn't buy one piece of art. Even more surprising, I don't really care. Bizarrely, the only regret I have about the trip to Dorset is that I didn't buy the mutant walrus that kid tried to sell me in the grocery store on our first night.
The carving would have summed up the Cape Dorset portion of the trip just perfectly. Not quite what it seems, quirky as get-go but somehow endearing and unforgettable all the same.
We still have 40 minutes before the plane boards. Enough time to get into town and try to find him. There's no taxis here but I see a blue collar worker in uniform walking to a pickup truck outside. I offer him money to drive me into town and help me find the kid selling the walrus. He says 'no problem' and acts like there's absolutely nothing strange about my request.
We drive around Dorset looking for the kid but we can't find him anywhere. When we get back to the airport, I try to hand him a wad of cash for both the gas and his time. But he keeps pushing it back into my hand . "Naah, this time it's on me."
I'm disproportionately moved. Mainly just because, besides Bill the studio manager and town's mayor Carey Merritt, this guy driving the pick-up truck is the first person in Cape Dorset that hasn't expected me to haemorrhage money just for being in their company.
We shake hands and he wishes me a safe trip home.
It's a lovely note to end the trip on.