Natural Resources Canada Will Go Ahead with Lancaster Sound Seismic Tests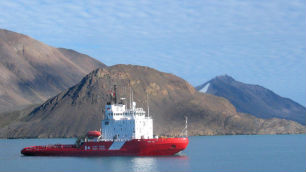 Natural Resources Canada will receive approval to do seismic testing in a sensitive marine area in the High Arctic, CBC News has learned.
A research licence has been granted for testing in Lancaster Sound in just over a week, emails from the Nunavut Research Institute say, despite public outcry against the plan.
Inuit leaders have strongly opposed the project, saying they fear oil or gas resources will be found during the testing and undesirable development will follow. They're also concerned about the effect the sound waves will have on marine life.
Okalik Eegeesiak, president of the Qikiqtani Inuit Association, said they feel economic development is winning out over environmental protection.
"They're ignoring regulations. They're ignoring the land claims agreement. They're ignoring community concerns. What kind of government do we have?"
The association has threatened to challenge the testing in the courts, but with testing starting so soon, there is little time to do so.
A Natural Resources Canada official had promised that after an outcry against the testing in Lancaster Sound, the department would make substantial changes to the plans.
"We're not going to be going out to collect the full range of seismic data in Lancaster Sound that we had set out to do," Donald James, chief geologist with the NRC's Canada-Nunavut geoscience office, said in June.
"The science team is actively working on making some, we think, significant modifications to the survey to take us out of these sensitive areas."
Natural Resources Canada would not comment Friday.