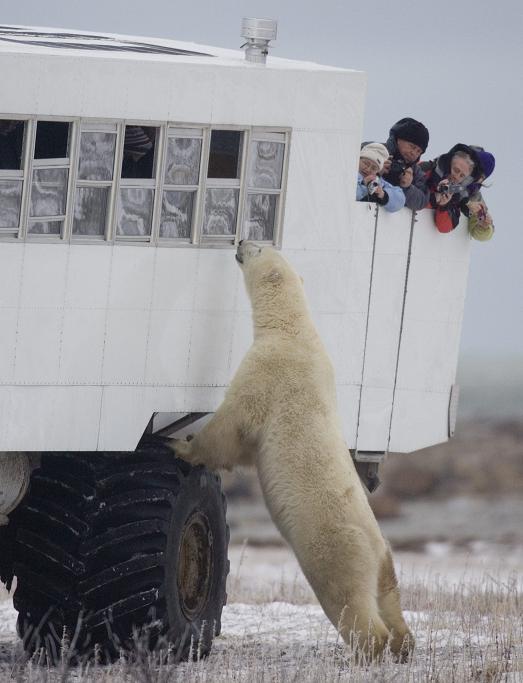 It's one of the most fascinating mysteries in the Arctic: What is happening with polar bears?
It depends on who you ask. Scientists who study these majestic Arctic predators have – with a few exceptions – been sounding the alarm over the future of polar bears. In the long and medium term, they are worried about how climate change might affect the bears' primary habitat – the sea ice. It's simple: polar bears need sea ice to hunt, live and breed. If there is no sea ice, there are no polar bears. In the short term, the scientists are concerned about overhunting.
Ask the Inuit who have been sharing the Arctic with polar bears for the millenia, and they'll tell you a different story. The Inuit will tell you that far from going extinct the number of polar bears has actually increased dramatically over the last half century. In the 1950's there were an estimated 5,000 polar bears across the Arctic. Today, they number about 25,000. That's a five-fold increase.
On the frozen ground of Canada's Inuit communities this statistic translates into increased frequency of encounters with polar bears. While some southern cities still have air raid sirens, most Inuit communities have polar bear sirens to warn the residents of approaching bears.
The bears are also a rare source of hard cash for economically strapped Arctic communities. Wealthy southern hunters pay Inuit guides tens of thousands of dollars for the privilege of bagging a bear. In Churchill, Manitoba, tourists shell out thousands for the pleasure of seeing and photographing the bears from the safety of an Arctic buggy.
Polar bear hunts are highly regulated and well-managed. So it is not surprising that many Inuit  hunters see further attempts to limit the polar bear hunt as hypocritical attempts by southerners to impose a solution for a problem the South is responsible for in the first place.
Polar bears will be the subject of my next special report for Eye on the Arctic; expect to see the story at the end of February 2011.