Iqaluit, Nunavut Polar Bear Hunting Quota Unclear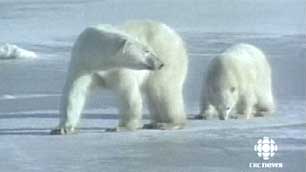 Hunters in Iqaluit, Nunavut, Canada, may not get to hunt more polar bears this year after all, as the group representing them has to deal with several levels of bureaucracy over the 2011 hunting quota.
Last week, the Amarok Hunters and Trappers Association in Iqaluit announced a big increase in the annual number of polar bears its members can hunt, from the usual quota of 23 bears to 41 in 2011.
The organization attributed the increase to "credits" it received from wildlife regulators for staying below the quota in past years.
But Amarok officials have since learned they do not yet have permission to use all those credits. Vice-chair David Alexander told CBC News he blames the confusion on miscommunication between many decision-making bodies.
The Qikiqtaaluk Wildlife Board has approved adding only 10 extra polar bears to Iqaluit's annual hunt, bringing this year's quota to 33.
Nunavut government officials said they support the Qikiqtaaluk board's decision, but it's now up to the Nunavut Wildlife Management Board to give its final approval.
"We have to send out the letter to the right appropriate people, which is the Nunavut Wildlife Management Board, as well as with the Nunavut government," Alexander said Wednesday.
The Nunavut Wildlife Management Board said it has yet to receive an application from the Amarok Hunters and Trappers Association.