Canadian Arctic Mapping Camp Abandoned Amid Ice Worry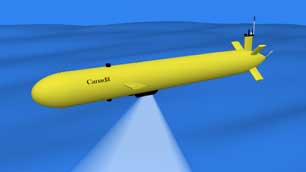 The Canadian government is abandoning plans for a remote scientific camp on the Arctic Ocean ice this year, citing dangerously thin ice conditions.
Over the past five years, scientists have set up ice camps in remote areas of the Arctic Ocean as they gather extensive mapping data that could help Canada claim a greater area of the seabed under the Law of the Sea convention.
Canada and other Arctic countries are vying to claim more of the Arctic seabed, which is potentially rich in oil and gas resources. Canada has until 2013 to submit its claim.
This year, 25 Canadian scientists were to conduct their mapping work from an ice camp about 400 kilometres offshore. Last year, a similar camp housed 12 researchers on an ice floe on the Arctic Ocean, about 250 kilometres offshore from Borden Island in the High Arctic.
But that ice floe started breaking up, said Jacob Verhoef, director of Canada's mapping program with the Natural Resources Department.
"That floe actually broke up, and so we had a new crack forming about a kilometre away from the camp," Verhoef told CBC News on Monday, adding that the camp was luckily not affected.
Risky rescue
Verhoef said Russian scientists had their own close call last May. They were forced out of their camp when the ice floe it was on broke up.
"If the ice breaks up, if the ice shifts direction, then you really are doing a very risky and dangerous operation of rescuing all these people," he said. "We've decided that that's too risky."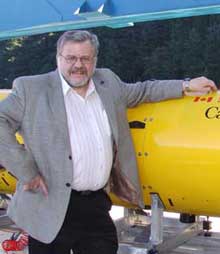 If the Canadian scientists had set up an ice camp this year, Verhoef said they would have deployed two automated underwater vehicles (AUVs) that would measure the ocean depth, among other things.
Verhoef said scientists will still deploy the AUVs in the same area, but they will be aboard a Canadian icebreaker. This will take place in August, when Canada and the United States team up for a joint mapping expedition.
"We feel that we can reach that same area with the two icebreakers and with the AUVs," he said.
Verhoef said they will conduct a test survey with the AUVs off Canada's East Coast in April.
To date, much of Canada's Arctic seabed mapping work has been done from near the Alaskan border all the way to Greenland. However, he said more work still needs to be done closer to the North Pole.
With files from the CBC's Patricia Bell