Nunavut Competes for Air Greenland Route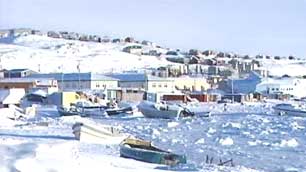 Nunavut is facing competition from two Atlantic Canadian provinces for an air connection with Greenland.
Officials in Nunavut have confirmed that Iqaluit is not the only city Air Greenland is considering as it seeks to re-establish a direct link between Greenland and Canada.
"They're looking at three other places other than Iqaluit, and those are Halifax, St. John's and Goose Bay," Kenn Harper, Denmark's honorary consul in Nunavut, told CBC News.
Halifax and St. John's are being considered as destinations, while Happy Valley-Goose Bay would be a refuelling stop, Harper said.
Harper has been lobbying for a new route between Iqaluit and Nuuk, the capital of Greenland, since First Air discontinued scheduled flights across the Davis Strait in 2001.
Three-day trip
Only the Davis Strait separates Iqaluit from Nuuk. A direct flight over the strait takes less than 90 minutes
But these days, it takes upwards of three days for people to fly between the two cities, because they must make a number of connecting stops in several countries.
Restoring direct flights between Iqaluit and Nuuk would boost tourism and create economic opportunities in the territory, said Hal Timar, executive director of the Baffin Regional Chamber of Commerce in Iqaluit.
"Nunavut packages become more appealing because now you could add three days to go to Greenland …," Timar said. "There's a lot of benefit from there, and not just Iqaluit; I mean, they go out to the communities from here all the time."
Industrial, cultural ties
Greenland's booming mining, oil and gas industries are part of the reason why Air Greenland is looking at Canada's Atlantic provinces, where some of the same companies operate, Harper said.
But Nunavut Premier Eva Aariak said Inuit in Nunavut and Greenland share many cultural ties, so having a direct air link between the two regions would help foster those ties.
"I'm a strong believer is establishing connections between Greenland and Nunavut," Aariak said.
Aariak said territorial government officials are working on the Air Greenland case.
Harper said officials in Nunavut, including airlines that fly between northern and southern Canada, must pull out all the stops to ensure Air Greenland makes Iqaluit its destination.
"We need our airlines … to sharpen their pencils and give the best inter-line rate possible, so that the price via Iqaluit can compete with the price via St. John's or Halifax or Goose Bay. That's the task at hand," he said.