Sami Market with Climate-Smart Meat in Focus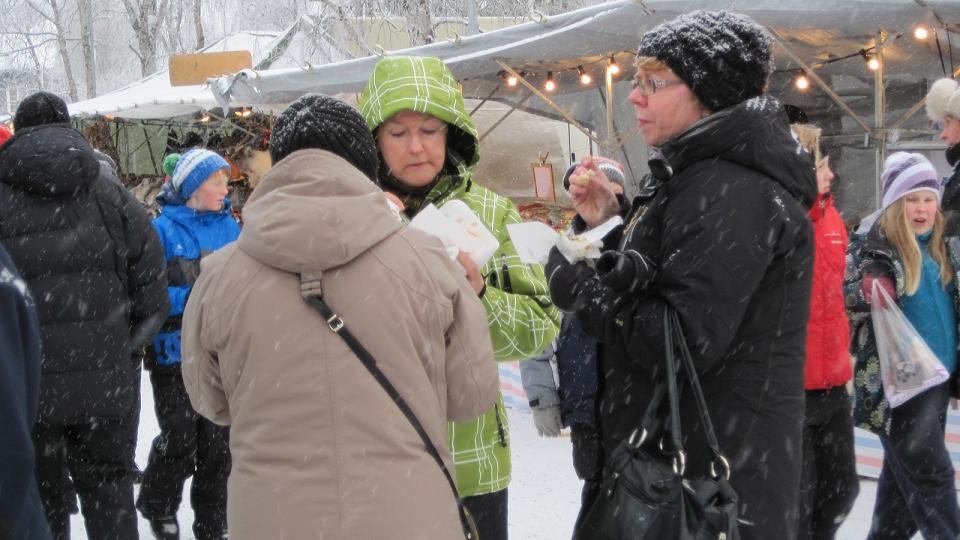 Reindeer meat will now be presented as a climate-smart and ecological product in Sweden.
The government is investing eight million crowns in making Sámi food more readily available in Sweden.
Moreover, a Sámi food ambassador has been appointed.
Sámi food ambassador Greta Huuva from Jokkmokk is preparing a large dinner in conjunction with Jokkmokk's winter market.
When we arrive, Greta is roasting angelica seeds for seasoning pies and checking the temperature of a traditionally baked moose roast, tjälknöl.
Greta runs a restaurant in Jokkmokk specializing in dishes with Sámi ingredients. She holds cooking courses and this past autumn, was named by the government as the Sámi food ambassador.
"I think we're going to have a Sámi cuisine with a reputation of exclusivity and with pure ingredients," says Greta Huuva. "I definitely believe this."
Jokkmokk's winter market in northern Sweden's Lapland region is a Sámi market with traditions going back more than 400 years. It attracts 50,000 visitors each year.
Nowhere else is Sámi food in focus as much as at Jokkmokk's winter market. The aroma of freshly baked Sámi bread, gáhkku and smoked reindeer meat, suovas, drifts over the marketplace.
Sámi food is sold directly over the counter. The restaurant specializes in Sámi cuisine and a number of Sámi food projects are on display.
Special emphasis is placed on reindeer meat, which is the foundation of the Swedish Sámi economy.
The reindeer are semi-tame, owned by individual reindeer owners and tended by economic associations – Sámi reindeer herding communities.
During a good grazing winter, as we are having this year, the reindeer feed in natural pastures. Slaughtering is carried out on a small scale, and in principle, the entire animal is utilized. The meat is eaten, the horns are used in crafts and the hide used for making clothing and ground sheets.
The reindeer industry is thus presented as an ecologically sustainable and climate-smart alternative that is now even being recognized by the government.
"Despite having such a unique and culturally singular cuisine in the Sámi culinary arts, there is too little Sámi food in our restaurants and on the grocery store shelves," says rural minister Eskil Erlandsson. "The consumers want Sámi food and logistics factors should not stand in the way of their wishes. That's why we're now implementing this initiative, to simplify the path from production to the table."
Some of the money will be used so that Sámi school children can learn more about their own cuisine, something that food ambassador Greta Huuva is very happy about.
"It's great that investments are being made in good basic ingredients for children and that children are being brought into the kitchen and given the chance to take part," says Greta.