When you're not Peter Mansbridge
Wednesday, February 9, 2011
Akulivik, Nunavik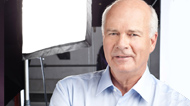 Ever since we arrived on Sunday, people have been asking me about Peter Mansbridge. (For those of you who aren't from Canada, Peter Mansbridge is the much-loved news anchor of CBC's flagship show The National. He's worked for CBC for over 40 years.)
"What's he like?"
"Does he come often to the Arctic?"
The curiosity wasn't unusual but I was perplexed that everyone was asking about him and with so much fervour. But it was nice to see so many people excited about the CBC.
So I told whoever asked me that even though we both worked for the broadcaster, I'd never met him.
But that he'd done a number of trips to the North, and I am sure he and The National would be back again.
I could see on people's faces that they were disappointed. But didn't know what to make of it.
It was only today, after the same conversation for the umpteenth time, that a woman asked me point blank, 'You mean Peter Mansbridge isn't coming. It's just you?'
Ouch.
Turns out that for the folks at the local community radio, CBC is synonymous with Peter Mansbridge. And that's what they announced to everyone in Inuttitut when they heard someone from CBC-Radio Canada International was coming to do interviews. People thought we were Peter's advance team or something!
Anyway, everyone (people in Akulivik and us!) seemed to have a good laugh about it all in the end once the air was cleared. I love how this job always finds a way to keep one humble!