Narwhal Tusk Ban Could be Repealed: Canadian Inuit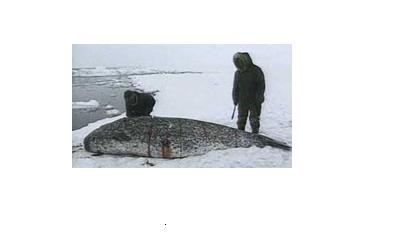 Fewer Nunavut communities could be restricted by narwhal tusk trade bans as early as September, according to Nunavut Tunngavik Inc, the territory's Inuit land-claim organization.
Inuit whalers in 17 communities across the territory have been prohibited from exporting harvested narwhal tusks internationally since the federal Department of Fisheries and Oceans (DFO) imposed the trade ban late last year.
 Federal officials have argued that narwhal in some areas are being overhunted. But Inuit, who have long harvested narwhal for their skin, blubber and long tusks, said they had not been consulted before the bans were introduced.
Last month, Nunavut Tunngavik said it will work with DFO to resolve the issue, rather than take the department to Federal Court.
Glenn Williams, Nunavut Tunngavik's wildlife policy advisor, said conversations with DFO officials have gone very well to date, which was the reason why the Inuit organization dropped its Federal Court application.
"There's information now that they didn't have in 2010 that we have now," Williams told CBC News in an interview Tuesday.
"We will apply that information, so we're anticipating that there will be a reduction in the number of communities that have an export ban."
Williams could not say which communities could have their export bans lifted by September.
Nunavut Tunngavik and DFO have 21 months to prepare a narwhal management plan, in the hopes of avoiding a global ban on the trade of narwhal tusks.
There is a concern that some of the 170-plus countries that have signed on to the Convention on International Trade in Endangered Species (CITES) could demand a worldwide trade ban on narwhal at the next CITES meeting in Thailand in 2013.
"We're going to need a management plan in place so that we can argue with the international communities about not putting narwhal into Appendix 1, which would ban all trade of narwhal tusks," said Paul Irngaut, a wildlife communications advisor with Nunavut Tunngavik.