Canada's Yukon territory eases Porcupine caribou hunting rules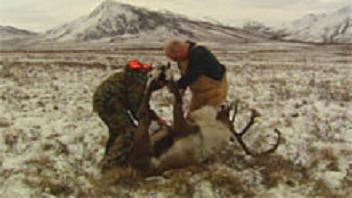 The Yukon government is allowing hunters to take more caribou from the Porcupine herd, citing recent numbers that show the herd is faring better than officials had thought two years ago.
The territorial government imposed hunting restrictions in 2009, when it was believed that the Porcupine herd's population was declining. Estimates at the time pegged the herd's size at less than 100,000 animals.
But a population census conducted last year put the Porcupine herd at almost 170,000 animals, said Kelly Milner, a regional programs manager with Environment Yukon.
Milner said the department is now easing its hunting restrictions, which affected both licensed hunters and aboriginal subsistence hunters for the past two years.
"Since 2009, we've got a lot better information. We were able to have a census last summer and we found that the herd is actually doing quite well," Milner told CBC News on Monday.
"The new regulations are basically a reflection of the fact that the herd is at a level where we can have more harvest," she added. "We've increased the harvest limits for the licensed hunters, and there's no limitation on subsistence harvest."
The bag limit for licensed hunters has now gone up to two bulls, while there are no restrictions for subsistence hunters.
Under the 2009 harvest restrictions, licensed Yukon hunters were limited to taking one bull from the Porcupine herd, while subsistence hunters were allowed to hunt bulls only.
Various governments and agencies in Yukon and the Northwest Territories devised a harvest management plan for the Porcupine caribou herd.
Milner said the Porcupine caribou harvest management plan allows for hunting restrictions to be lifted once the herd's population passes 115,000 animals.