Forest fire in Canada's Northwest Territories continues to rage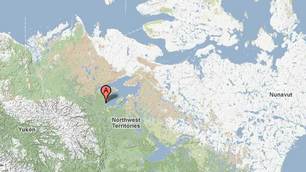 Firefighters continued to battle a forest fire that is burning out of control near Déline, N.W.T., on Tuesday.
 The lightning-caused wildfire, which was first reported on Sunday, is currently 190 hectares in size and burning 12 kilometres away from the remote community.
Water bombers and helicopters have been dumping water onto the blaze all day Tuesday. About 30 firefighters on the ground have been trying to control the fire's south flank — the side that is closest to Déline.
"The fire is still considered out of control. Ground crews will be working it today," Judy McLinton, a spokesperson for the N.W.T. Environment and Natural Resources Department, told CBC News.
"It's very extreme drought conditions in that area and the terrain, which is like a peaty moss type, means that the fire is burning really deep."
McLinton said while the fire is close to Déline, winds have been blowing smoke away from the community of about 700.
Some residents flown to Yellowknife
About 108 elders, young children and residents with respiratory problems were flown out of Déline early Monday morning because of health concerns related to the wildfire smoke.
Many of those who were relocated are currently staying in Yellowknife, about 540 kilometres southeast of Déline.
Mandy Baya, one of the evacuees, said she was pleased with how prepared the community has been for the fire.
"We already knew to kind of be on alert. The community was actually really good in responding right away and letting everyone know," Baya said Monday.
"We had our local radio man, Michael, on the air with us, so we all tuned in to our radios and he gave us an update."
It is not certain when the evacuees can return to Déline, as it is up to community members to make that decision.
Officials say a local state of emergency that was declared on Monday remains in effect, contrary to earlier reports that it had been lifted. The Environment and Natural Resources Department says the fire is still threatening the community.