Finland's capital battles with snow that just won't melt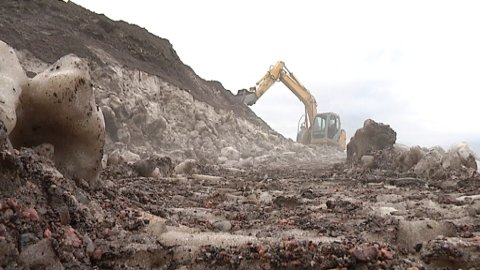 As one of the hottest summers in decades draws to a close, Finland's capital city of Helsinki is still coping with mountains of snow cleared from city streets during the record-breaking winter of 2010-11.
The Maununneva dumpsite may not be able to accept any new snow next winter unless the stubborn snowpiles melt.
The pile is about 100 metres wide and nearly 15 metres deep. That is about five metres deeper than at this time last year, says Helsinki city building works official Villa Alatyppö.
Last winter the city's 30 snow-dumping sites took in 35,000 truckloads, which is roughly three times the volume of the Finnish Parliament building.
At the smaller sites, most of the dirty snow has melted during a summer that saw the mercury rise above 30 degrees at times.
According to Alatyppö, the city will have a problem on its hands if next winter arrives with heavy snowfall early on. He notes that the old snow is too fragile for lorries to drive on to dump more. Officials may have to set up new snow reception sites. The old snow cannot be dumped into the sea, either, he says, as it contains too much refuse, including dog droppings, glass and litter.