Pro-wolf politician attacked in Sweden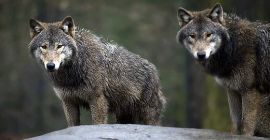 A Swedish politician who has openly criticized the wolf hunt received head injuries when an unknown attacker threw a stone through his window. The Green Party politician was hospitalized on Tuesday night but is in stable condition. Arne Johansson had previously received death threats, reports newspaper Aftonbladet.
The wolf hunt has divided Swedish opinion since it was restarted a few years ago. Many farmers and rural residents think the number of wolves needs to be contained as the animals attack cattle and dogs.
On the other side of the debate, environmentalists consider the wolves to be an imporant part of Sweden's wild life. Many city dwellers have expressed a lack of understanding for what has been dubbed "wolf hatred" in the countryside.
RELATED LINKS:
"Wolf controversy continues in Sweden" – Radio Sweden, August 29, 2011
"Sweden's wolf policy a 'trick' say environmental groups" – Radio Sweden, August 24, 2011