Finnish tourist industry urged to prepare for snowless winters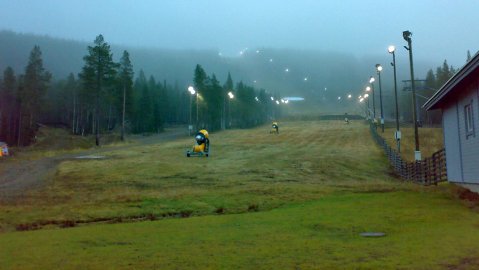 New research published on Tuesday shows that climate change could have a definitive effect on the tourism industry in the north of Finland. The lack of ice and snow could also necessitate the construction of new artificial skiing trails and ice rinks.
Climate change will affect winter weather more than summer conditions in Finland. The hottest days currently experienced during summer will become more common, heatwaves will lengthen, and winter will be shorter than they are now.
Researchers point out, though, that the changing climate could bring new tourism opportunities to the north of Finland because of the shortened winter and lower precipitation levels. They also advocate year-round tourism, as opposed to reliance on the shrinking winter.
Artificial winter facilities will require energy, and the researchers see possibilities to use bio and geothermal sources to help power new winter sports attractions.
Agriculture more vulnerable
Climate change will also have a remarkable effect on the growing seasons of plant life in Finland. Pine forest growth will accelerate by 16 percent in southern Finland and 31 percent in Lapland, thanks to the warming climate.
The warmer conditions will bring new uses for farmers' fields, but the researchers recommend careful crop selection to make best use of the longer growing season.
"Variable weather conditions will increase the vulnerability of agriculture," said agricultural sub-project leader, Professor Juha Helenius of the Agricultural Sciences Department at Helsinki University.
The research was conducted by Oulu, Helsinki and Jyväskylä universities, along with the Finnish Environmental Administration and the Meteorological Institute.