Lack of snow in Scandinavian Arctic 'catastrophe' for tourism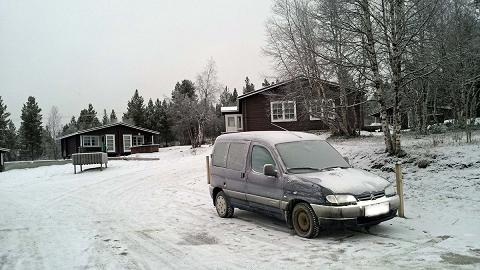 Tourism companies in northern Scandinavia are losing money due to the mild weather with little snow.
"It's a catastrophe," says Iain Grummitt head of the Kaaresuvanto Resort, a small community in the Scandanavian Arctic that straddles the border between Sweden and Finland.
It is late November, and it is quiet and empty outside of the Davvi Hotel, a short distance from the border bridge between Sweden and Finland. Since Christmas 2007, the company Transun has invested in marketing the resort to the British public.
In 2008, their best year, 8,000 British visitors came to the area to experience a real Christmas with Santa Claus, snowmobile rides and reindeer and dog sledding. "When I was here last year, we had nearly a meter of snow. And now it's a problem, a catastrophe for the whole area," says Iain Grummitt, head of the resort.
Tours cancelled
It is currently minus two degrees Celsius, and there is enough snow on the hillside to create a white contrast against the dark brown hotel. In the kitchen, Chef David whistles to himself. "We don't have anything to do. It's really sad. We cook food for the staff and wait. Wait for snow," he says.
To date, the company has canceled three flights: 540 British tourists have not been able to attend their Christmas holidays in Sápmi. And the 50 or so employees have little to do. Niko Kostich, the company's sales manager, says they have lost nearly  0.5 million Swedish krona so far. But about a hundred small businesses in northern Finland have also been impacted, including winter tourism areas Levi, Rovaniemi and Heatta Kaaresuvanto. "I hope the snow comes so we get some tourists," says Chef David.
"But canceling the tours was the right thing to do. We can't deliver what we've promised without snow," says Iain Grummit. The weather websites promise snowfall tomorrow. But the companies need snowmobiles for tourists to arrive. Sales manager Niko Kostich still does not know if next week's flights will run or not.
"Climate change absolutely exists. Things are happening every year. Floods, higher temperatures and no snow in Karesuando, which is extremely unusual," says Chef David.