Swedish reindeer back in Scotland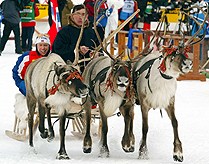 Did you know that Scotland has its own reindeer herd and the man that re-introduced them to the UK decades ago came from Sweden?
Now Sweden's indigenous people, the Sami, are once again sending some of their reindeer over to the UK.
In 1952, a Swedish reindeer herder, Mikel Utsi, reintroduced reinder to Scotland's Cairngorn Mountains as an experiment to show that they could live and breed in Scottish surroundings.
The experiment was a success. 
This Cairngorn reindeer herd, numbering 130, now exists entirely of animals born in Scotland. But to boost the gene pool, the Sami people in Sweden have once again agreed to help out.
Tilly Smith owns the reindeer herd in Scotland which comes into its own during Christmas, and has come over to Guorpak near Jokkmokk with her husband Alan and son Alex to choose the reindeer.
She told Swedish Radio's, Sami Radio, that that they had their eye on a number of males.
Before the reindeer make their journey by truck and ferry from Sapmi to Aviemore, they first must undergo 40 days of quarantine, just like the herd back in 1952. This is to protect against tuberculosis.
The reindeer on the farm in Scotland are a tourist attraction, particularly during Christmas when they are used to pull sleighs nationwide.
(Originally published November 21, 2011)