Diamond exploration at Nunavut, Canada Chidliak property on hold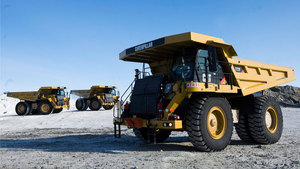 The president of Peregrine Diamonds said it's still too early to say whether work will resume this year at the Chidliak property in Canada's eastern Arctic Nunavut territory.
The company put the project on hold last month after assuming full ownership of the property. The company is also waiting for regulators to approve the next phase of exploration, which would require more equipment and more workers on site.
Many people have voiced their opposition to the project to the Nunavut Impact Review board, saying they worry about the impact on wildlife and the environment.
"Typically, the majority of comments that come in are comments expressing concern," said Brooke Clements, president of Peregrine Diamonds. "You don't typically get a flood of comments expressing support for the project. And I will tell you, there is a lot of support in both Pangnirtung and Iqaluit for the project."
The Nunavut Impact Review Board is accepting public comments on the Peregrine's planned bulk sampling program until Monday, Jan. 16. After that, it will make a recommendation to the Territorial government on whether the project should go ahead.
Peregrine Diamonds said the work could be postponed until next year. The company said it will do a full analysis of its exploration program before deciding how to proceed.
Related Link:
Diamond exploration concerns Inuit in Canadian North, CBC News