Russians win Helsinki ice sculpture contest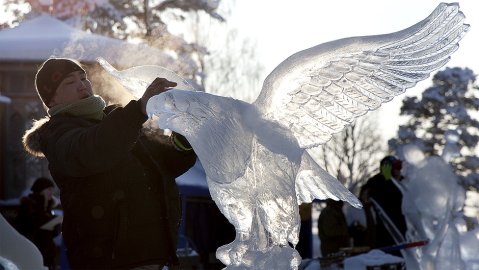 Russian ice sculptures Ivan Loktyukhin and Vadim Polin have won this year's 'Designed by Nature' competition at Helsinki's Korkeasaari Zoo. The winning sculpture was called 'The Morning of the Earth'.
Second place went to Mongolian pair Bathmunkh Tserendashi and Odgerel Altanbayar, who made a sculpture they named 'Rainbow Land'. Kilian van der Velde and Marieke van der Meer, from the Netherlands, took third place for their work 'Molecules'.
The judges awarded the best-placed Finns, Timo Koivisto and Juha Ahonen, fifth spot for their sculpture, 'Perfect Predators'. The Finnish pair did, however, win the public vote.
Competitors produced a total of 24 ice sculptures, which will be on show on the island of Korkeasaari until they melt.
For more stories from YLE News Finland, click here.