Profile: Dog mushing in Inuvik, Canada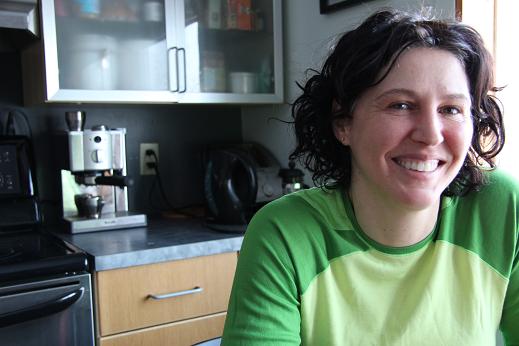 Name: Marie-Anick Elie
Lives in: Inuvik, Northwest Territories, Canada
Hometown: Quebec City, Canada
Passion: Dog mushing
This Quebecer has lived in the North for 15 years. After settling in Inuvik, she took up mushing with just four dogs. Her brood has grown to 30. She even had a house built in the bush so she could live near her dog yard. Just back from her first international sled dog race in Alaska, Marie-Anick sat down with Eye on the Arctic to tell us about her dogs, her life and why mushing is so important to her.
How did you get started?
I never tried dog mushing when I was in Quebec City. I was more into horses. When I moved to the North horse riding wasn't really an option so I started getting involved with dog mushing and fell in love with it.
How did you learn about it?
There's a small community of dog mushers here in Inuvik. They let me ask questions, they gave me advice, they came by to see how me and my dogs were doing. Without them it would have been very difficult.
What goes into caring for your animals?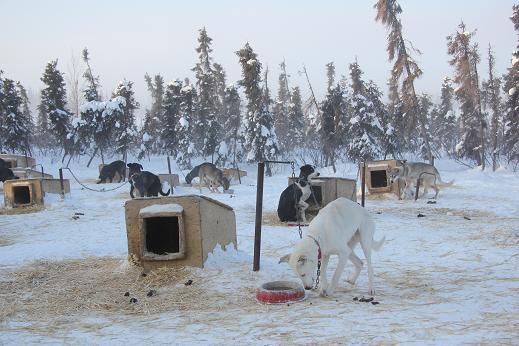 It's a lot of work. At 7am I feed them a light soup with horse meat and kibbles. I go to work and when I come back in the evening I clean up the dog yard, make sure they have good straw (in their dog houses), give them more food. Then I walk the dogs in groups of 10 or run the dogs on the sled.
And now you've started racing internationally?
I wanted to run with the big boys and see how we'd do. I went to a race called a Rondy (2012 Anchorage Fur Rendezvous World Championship Sled Dog
Race). The race is considered one of the toughest sprint races in the world with competitors from Europe, Alaska and Canada. I didn't go there expecting to do that well.
How did you do?
We came in 10th. It was beyond my expectations. I'm very proud of the dogs, they did awesome. Only two woman registered for the race and I'm the only one that finished. I feel like I'm flying the flag for the women and making sure there's some young blood coming into the sport.
What were the biggest challenges?
It's considered one of the toughest races in the world. It's in downtown Anchorage so there`s traffic, backtrails. You go under tunnels, over bridges. People everywhere are cheering. They yell. The dogs can get spooked and tangled up, or discouraged by it all. My dogs were awesome though, even though we live in the bush and they're not used to crowds of people.
You have 30 dogs, how decide who will be on the team?
We start with low mileage runs and increase and see how the dogs do. You mix and match various dogs to see how they do with the different speeds, and distances. Sometimes they like to run with certain dogs or only on certain sides. You`re always learning about your dogs to see where you'll place them on your line. You're managing with a lot different individual personalities.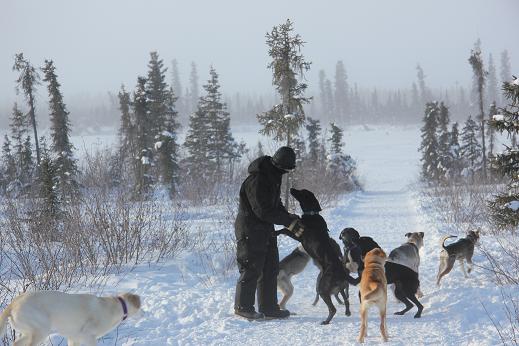 What's so special to you about dog mushing?
It's the passion I feel for working with animals. There's so much unknown in dog mushing. There's a lot of problem solving you have to do. It's extremely personally enriching. But it's not just the person driving the team that has the passion. A lot of people think the dogs are forced to run, but it's not true. The dogs also have a passion for this sport too. I encourage people to try it and see what it's all about.
Write to Eilis Quinn at eilis.quinn(at)cbc.ca
Related Links:
VIDEO: Arctic Mush: Joelie and his Dogs, Radio Canada International
REPORT: Hospitality of Arctic villages makes Kobuk 440 sled dog race popular, Alaska Dispatch
REPORT: Racing sled dogs: The care of canine ultra-athletes, Alaska Dispatch