Eye on the Arctic Health Series nominated for Webby Award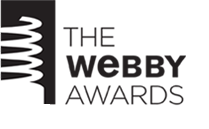 Today nominees for the 16th annual Webby Awards were announced. We here at Eye on the Arctic found out that our
Arctic Health Series: Bridging the Divide
has been nominated for an award in the
News and Politics: Series
category.
The Webby Awards is the leading international award honouring excellence on the Internet.
The health crisis in the Arctic has become one of the most pressing issues in the world's circumpolar countries. But it receives relatively little media and political attention next to issues like climate change and Arctic sovereignty.
When Radio Canada International set out to work on the Arctic Health Series in 2011 we travelled to Nunavik and Nunavut in Arctic Canada to look at this issue from the perspective of those living in these remote Arctic regions. Some of our stories from the series include:
Caring for our People: Inside Arctic Nursing, a short film where we talk to Minnie Akparook, an Inuk nurse from Northern Quebec, about the obstacles she overcame to work in health care.
Lavinia's Story, a documentary featuring Lavinia Curley, an Inuk woman living in Nunavut, who shares how she overcame addition and abuse despite the difficulty of obtaining mental health services in the North
Bridging the Divide, a documentary focusing on the local Inuit who are working to improve health and well-being in their communities despite the enormous challenges
The response to our videos and reports in our Arctic Health Series were overwhelming. I think it comes down to one thing: the honesty and bravery of the northerners who agreed to speak with us on film, no matter how personal or how difficult the subject matter. It was an honour to be able to tell their stories.
If your browser doesn't take you directly to the voting page, follow these steps:
Go to the Webby Award People's Voice Awards, here.
Go to Jump to Category and choose the Online Film & Video section (the third choice along the top)
Click on the News & Politics: Series section
Sign in with Facebook, Twitter or Email
Vote for Bridging the Divide
And as always, we continue to welcome your comments and feedback on the series on Twitter @eyeonthearctic, Facebook and at arctic(at)cbc.ca
Write to Eilis Quinn at eilis.quinn(at)cbc.ca