Revenue tussle ices Arctic oil drilling safety upgrades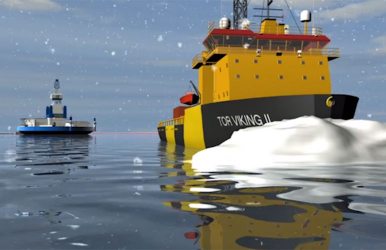 Shortly after a new report hammered Congress for not improving drilling safety two years after the nation's worst oil spill, two senators laid the blame on unnamed colleagues opposed to sharing federal offshore energy royalties with Alaska and other coastal states.
Depending on the size of the oil discoveries Royal Dutch Shell and other companies hope to find in the Arctic Ocean, the revenue sharing could be worth hundreds of millions of dollars annually to Alaska alone.
That money could be a key source of income to build docks, roads and hangars that support spill response and emergency operations in an offshore drilling frontier with little infrastructure, according to Sen. Lisa Murkowski, R-Alaska.
Some of the money would also support local communities, such as the North Slope Borough, the only entity with full-time search-and-rescue operations on Alaska's northern coast.
Drilling safety
Sen. Jeff Bingaman, the New Mexico Democrat who chairs the Senate's Energy and Natural Resources Committee, opposes revenue sharing, according to an article in PolitiFact, saying he can't support taking money from the deep-in-debt federal government. His office would not comment on recent, bipartisan accusations by oil patch senators like Murkowski and Sen. Mary Landrieu, D-La.
Murkowski and Landrieu said they understood the anger over Congress's inaction on improving drilling safety since the Deepwater Horizon tragedy two years ago. In a joint statement, they said a "small number of senators" held up legislation in the Energy Committee because they opposed revenue sharing.
A seven-member independent group called Oil Spill Commission Action gave Congress a "D" for failing to enact any legislation to improve offshore drilling safety since the Deepwater Horizon explosion took 11 lives and spilled an estimated 5 million barrels of crude oil into the Gulf of Mexico.
The group includes former Alaska Lt. Gov. Fran Ulmer, and is the same bunch of people assembled by President Obama to recommend safety improvements after the disastrous spill. Many thought the National Commission on the BP spill and offshore drilling were done when they issued their recommendations early last year.
But the seven volunteers reassembled under a new name because they didn't want their call for change to vanish from the public eye, Ulmer said. They won a grant from the Walton Family Foundation of Arkansas to pay for basics including a single staff member, and their latest report follows up on their initial suggestions.
'Assessing Progress'
The new review, dubbed Assessing Progress, didn't just look at Congress. It graded industry a "C+" for making voluntarily improvements, such as establishing a Center for Offshore Safety. The group gave the Obama administration a "B" for improvements, such as dissolving the much-criticized Minerals Management Service into three new agencies. Now, potential conflicts of interest are reduced because regulatory activities are separated from leasing and environmental reviews.
The action group frowned on Congress, however, saying it should have put the administration's changes into law. It should also have done such things as raise the liability limit for spill damages beyond $75 million, a ceiling set more than 20 years ago. Luckily, BP was willing and large enough to pay for the full costs of "containment, response and restoration" after the Deepwater tragedy, but the U.S. may not be so lucky next time, the report notes.
Congress also should dedicate more funding to oil spill response and research, giving the National Oceanic and Atmospheric Administration a formal consulting role before offshore lease sales are held, the report argues.
Instead of promoting improved safety, Congress seemed more concerned with speeding up permitting to allow more offshore drilling, Ulmer said.
Discussing bill
Robert Dillon, an aide to Sen. Murkowski, said Congress did approve funding that has allowed the Bureau of Safety and Environmental Enforcement — one new agency created in the ashes of the MMS — to beef up inspections.
Other safety improvements, including codifying the division of MMS, are included in the held-up bill, he said.
The Outer Continental Shelf Reform Act that contained the improvements was set to be marked up in committee last July when Landrieu and Murkowsi offered an amendment calling for revenue sharing, Dillon said.
"Before a vote on the amendment could be held, the committee lost its quorum and the markup was adjourned," he said in an email. "Sen. Murkowski has repeatedly called for the markup to be rescheduled, but she, and the other members of the committee, are still waiting after nearly a year."
Rosemarie Calabro, Bingaman's press secretary on the committee, said the senator's office had no comment on the accusations or Congress's poor grade.
Murkowski and Landrieu argue that state and local governments should receive some of the federal production royalties to pay for critical land-based facilities.
"Our shared goal is to have safe production, so we must consider the states that provide the airfields, docks, roads, navigation channels and other infrastructure that make offshore production possible," their release said. "We believe it's long past time we provide coastal states with a fair share of the revenue from oil and gas produced off their shores."
Recommendations for North
The action group's report also includes key recommendations for the Arctic, where Shell Oil Co. hopes to start exploratory drilling this summer. Those include:
•Boosting research funding to better assess environmental conditions near proposed drill sites;
•Establishing a regional citizens advisory council to act as a watchdog for spill preparedness; and
•Proving oil companies can respond to an oil spill in the Arctic's harsh, icy conditions.
Also needed in the Arctic and elsewhere are more upgrades for blowout preventers, said Lois Epstein, Arctic program director for the Wilderness Society and a member of the Offshore Energy Safety Advisory Committee that advises the Bureau of Safety and Environmental Enforcement.
Epstein, an engineer, issued a report in February citing the lack of improvements since the Deepwater Horizon explosion.
Contact Alex DeMarban at alex(at)alaskadispatch.com
For more stories from Alaska Dispatch, click here.