Arctic Alaska villages thankful for abundant whaling season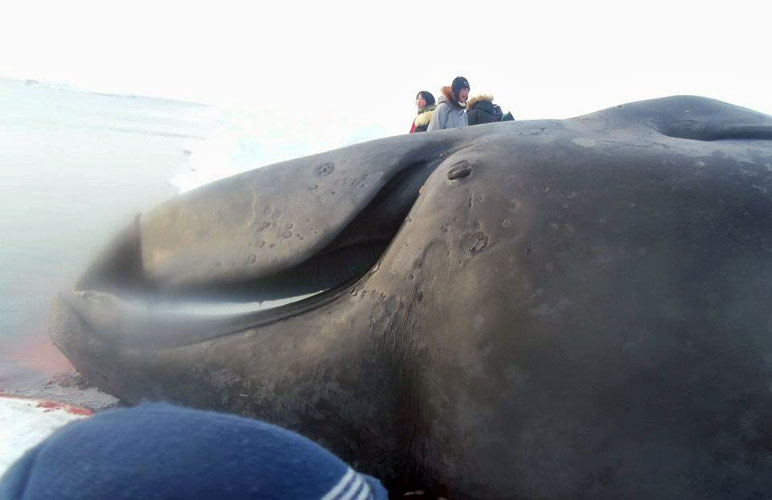 With spring bowhead whaling season in full swing, at least five Alaska communities are distributing and celebrating their behemoth harvests, including one village that hasn't landed a leviathan in years.
Though details were somewhat sketchy on Monday because many communities were knee deep in the process of stripping away massive slabs of meat, it appeared 13 whales had been taken, according to first-hand accounts in villages.
Reporting success were the communities of Gambell and Savoonga on St. Lawrence Island. Gambell landed two whales and Savoonga landed six, residents said. Wales and Wainwright each landed one whale, residents there said. Barrow had landed three whales.
11 villages get 75 strikes
A hurried worker with the Alaska Eskimo Whaling Commission in Barrow was reluctant to say how many bowheads had been struck and lost or how many had been landed. The 11 villages that are part of the commission receive a total of 75 strikes for the spring and fall hunts.

The commission official who's supposed to speak with media, executive director Johnny Aiken, was on the ice butchering a whale his crew had landed, the worker said. Attempts to reach Aiken on Monday were unsuccessful. He'll be out for a few days, she said.
A village gets busy processing the meat and the muktuk — the black skin and pinkish blubber — when someone lands a whale, said Mike James, city clerk in Gambell some 650 miles southwest of Barrow. This year, crews in that village of 600 have landed whales 28-feet and 41-feet long, he said.
"Pretty much all normal activity ceases and everyone directs their attention to the whales," he said.
Northeast of Gambell, happy residents of the Seward Peninsula community of Wales, population 150, said they hauled in a bowhead this weekend with help from Shishmaref villagers who hurried over from the neighboring community. The bowhead was Wales' first in six years.
Community history
Wales was once a major whaling hub because of its perch along the Bering Strait near bowhead migratory routes. But the 1918 flu pandemic wiped out many of the best bowhead whalers and that tradition disappeared.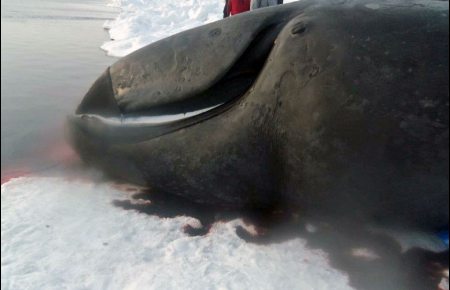 But in the late 1960s, a white teacher in the village, the late Charles Christensen, took an interest in reviving the hunt and began seeking tips from whalers in other villages. Christensen gathered up a crew of locals, tested a harpoon and won the blessing of officials with the Alaska Department of Fish and Game.
The teacher and his crew killed the village's first bowhead whale in decades in the spring of 1970, not long before the bowhead was listed under the Endangered Species Act. The timely catch helped the village continue whaling, under an exemption to the act for Native subsistence.
The bowhead is still listed as endangered. But the stock off Alaska's coast is growing, with the population estimated above 13,000, Craig George, a biologist with the North Slope Borough's wildlife management department, recently said.
Today, the whaler's nemesis in Wales isn't influenza. It's ice that "rots" quickly, limiting opportunities for whaling, according to Goldie Crisci, a longtime resident who works with the local Native corporation.
This year, an unusually thick snowpack may have insulated the shorefast ice, giving whalers a stable platform, she said.
But the thick snow was also an impediment. That's because only Raymond Seetook Sr.'s crew was ready when the whales passed the village. Other captains hadn't yet dug their boats out of the snow, she said.
Seetook landed the bowhead Saturday evening, but it wasn't hauled onto the ice until late Sunday night. The whale was the village's first since 2006. Seetook caught that one, too.
Towing the whale back was excruciatingly slow — in part because other boats couldn't reach the whale quickly to help, said Crisci. There were other delays, too. It wasn't easy getting the pulley system set up and hauling in the whale, said Sean Komonaseak Sr., who also works at the corporation.
'Everyone has sore muscles' 
He was up all night Saturday rounding up the block-and-tackle and other gear for the effort. On Sunday, he counted 40 people heaving it ashore in a process that took hours.

"We were going only so many inches at a time," he said. "Sometimes it was a foot and half, sometimes half a foot. It's a lot of work."
There are no breaks, he said. You can't let go of the rope or the whale will slip back into the water, so pullers stand on the rope when their arms need a bit of rest.
"Everyone has very sore muscles today," he said.
Seetok estimated the length of the bowhead between 25 to 30 feet, but that wasn't official. A rope was marked with the whale's length, but people have been too busy to measure the rope itself, Komonaseak said.
Monday afternoon, the butchering and distribution of the whale was still underway. Komonaseak said he couldn't talk long. He still needed to get back on the ice to help.
"We still got a lot to do," he said.
Contact Alex DeMarban at alex(at)alaskadispatch.com
RELATED STORIES:
A whale hunt that saved a Native tradition, Alaska Dispatch
Photos: Wales bags a whale, Alaska Dispatch
Twitter: Follow Alaska Dispatch
For more stories from Alaska Dispatch, click here.