Gold fever in Nome, Alaska has troopers, Coast Guard fearing the worst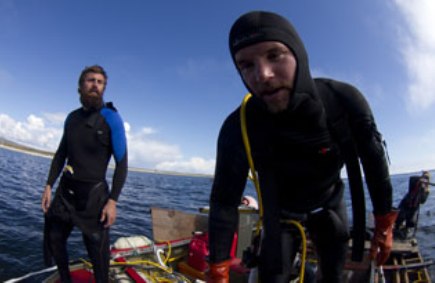 Fearing a frenzy, an outreach campaign off the hopeful shores of Nome begins in five weeks, when the US Coast Guard, Alaska State Troopers and other agencies hold a series of meetings designed to offer safety tips and warnings to gold dredgers.
The dredging vessels made famous by Discovery Channel's "Bering Sea Gold" are a growing, unregulated fleet, and Coast Guard investigators and others worry about the safety of operators who flout laws, said Lt. Eric Thompson of the Coast Guard's investigation division in Anchorage.
"They've been out of sight, out of mind for years," he said. "Now they're on our radar. We'll be working with them to educate them and make them safe. Then we'll hold them to a standard."
Thirty dredging boats have grown to more than 50 in two years. More are expected this summer as a modern-day gold rush expands. Some of the boats are hodgepodge, homemade operations that work in close quarters. Some lack such required gear as life vests for every passenger and navigation lights. Some aren't registered with the state, as required by law, Thompson said.
Operators will hear about those requirements and others at the meeting as dredgers ready their rigs for a season expected to begin when the ice melts. The meeting is strictly educational. Citations will come later after people have been given a reasonable period of time to buy the gear they need.
"We're hoping to discourage people from watching the show and coming up here," said Thompson. "There's a lot of details people may not consider. Most important for us is their safety."
The meeting will include tips on boating, diving and cold-water survival. "A lot of them are under the misguided belief they can swim to shore. Until you have been in that water, you don't know how quickly hypothermia can kick in and how quickly you can be incapacitated."
One man died of a heart attack on his first-ever dive into the frigid Bering Sea waters last year. "It is my opinion he didn't grasp what he was getting into," Thompson said. "He officially died of a heart attack, but the environmental conditions could have led to that."
The educational outreach and enforcement efforts by the Coast Guard and Troopers will include drop-in visits early in the summer, Thompson said.
"We'll spot check, make sure everything is in order. If it's an immediate life-threatening issue, like they don't have life jackets, we'll tell them to stop for a day, go to port and get life jackets. We'll give them a bit of time to get other things, too" because stores aren't always stocked with boating equipment.
But after some weeks, investigators will return to Nome, ready to write tickets.
"We won't tell you a date when we'll be there, but it will come sometime this summer. We want to make sure people are prepared."
For more stories from Alaska Dispatch, click here.