Alaska's duck-billed dinosaurs overwintered on frigid North Slope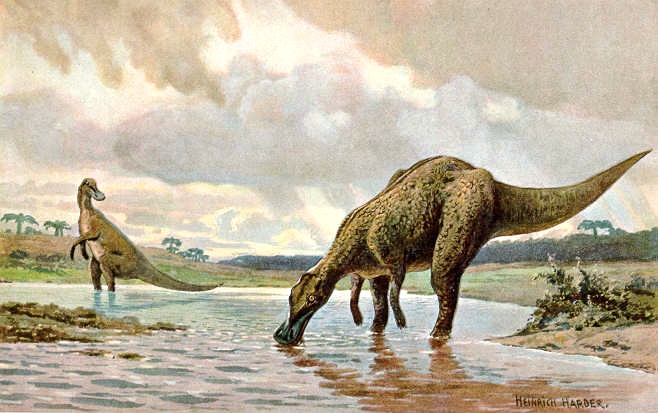 The duck-billed dinosaurs that roamed Alaska's Far North about 70 million years ago weren't fair-season snowbirds that meandered south once the sun dipped below the horizon and long winter clamped down.
Instead, gobs of these toothy 4-ton hadrosaurs exhibited the same ecological moxie (if not outright Alaskan-style stubbornness) and remained in their Arctic slope habitat throughout the dim polar night.
They just toughed it out.
The latest findings come from an international collaboration that examined an ingenious angle: the seasonal patterns embedded in fossilized bones like growth rings in a tree.
A leading paleontologist with long experience unearthing dinosaur fossils at Colville River digs and two specialists in unraveling clues hidden in dinosaur bones led the study. They found the Alaska fossils exhibited growth bands that alternated, suggesting that these prehistoric herbivores endured lean winters and then fattened up on Alaska's riotous summer explosion.
"The bone microstructure of these dinosaurs is actually a record of how these animals were growing throughout their lives," explained coauthor Allison Tumarkin-Deratzian, an assistant professor of earth and environmental science at Temple University, in this story.
"What we found was that periodically, throughout their life, these dinosaurs were switching how fast they were growing. We interpreted this as potentially a seasonal pattern because we know in modern animals these types of shifts can be induced by changes in nutrition. But that shift is often driven by changes in seasonality."
The paper — "Hadrosaurs Were Perennial Polar Residents" — introduces another wrinkle into a long-running issue among paleontologists and other dinosaur aficionados: How did all of the polar dinosaurs survive when the sun slipped below the Arctic horizon and plant growth ceased for months at a time? Did they migrate south? Or hunker down?
Written by Tmarki-Deratzian,Anthony Fiorillo, a paleontologist at the Dallas Museum of Nature and Science, and zoologist Anusuya Chinsamy-Turan, from the University of Cape Town, the paper appeared in the April issue of the journal The Anatomical Record: Advances in Integrative Anatomy and Evolutionary Biology.
Anatomy of an Arctic dinosaur
Dinosaurs thrived in Alaska during the Cretaceous Period, and among the most common was the edmontosaurus — a slow-growing plant muncher that foraged across the state in what might have been vast herds similar in ways to modern caribou, ranging from the Alaska Peninsula to the slope north of the Brooks Range.
"The Arctic is not the kind of place you normally think of when you think of dinosaurs but yet there they are," Fiorillo told the Toronto Star last week in this story about the study.
These bipedal creatures were big — as long as a standard school bus. They are thought to have walked on two legs with three-toed feet and blunt, mitten-like hands. Scientists haven't agreed what they ate with beak-like mouths that bristled with hundreds of teeth. Analysis of how their jaws moved suggests that they grazed on horsetails and other plants close to the ground, while other evidence seems to indicate that they browsed on leaves and twigs.
But that's not the only mystery surrounding Alaska's prehistoric denizens.
"Dinosaurs from the North Slope of Alaska pose a biological enigma," the authors explained in the paper. "The Alaskan North Slope has remained at high latitudes since the Late Cretaceous, when diverse dinosaur groups experienced a cold-temperate climate. Sunlight departed the ancient Arctic Circle for up to six months, however, and would have reduced the nutritional quality of overwintering foliage."
Hence, a paleontological dilemma:
"Although northern Alaska wasn't as cold 70 million years ago as it is today, winters would still have brought snow and ice," explained this story about polar dinosaurs published in Smithsonian. "Back then, sharp-toothed relatives of Tyrannosaurus rex stalked the 35-foot-long, duck-billed dinosaur Edmontosaurus. The surprise from these finds, Fiorillo says, is that the same types of dinosaurs lived in Alaska as in toastier environments farther south, such as Montana and even Texas. So far, he hasn't unearthed any dinosaurs that appear to have lived only in frosty climes."
Fiorello, who also uncovered samples of the horned dinosaur Pachyrhinosaurus in Colville River boneyards, discovered that many of these creatures had been preserved in immense flood deposits — as though they had been foraging through bottomland for spring growth when they were suddenly inundated, swept away and drowned.
"They are very similar to modern flood deposits that happen in Alaska in the spring when you get spring melt water coming off the Brooks Mountain Range," Fiorillo said in this story. "The rivers flood down the Northern Slope and animals get caught in these floods, particularly younger animals, which appear to be what happened to these dinosaurs.
"So we know they were there at the end of the dark winter period, because if they were migrating up from the lower latitudes, they wouldn't have been there during these floods."
Alaska duck-billed dinosaurs differed from Canadians
To investigate further, Fiorillo began working with Allison Tumarkin-Deratzian, to analyze whether the thin layers in the dinosaur bone "microstructure" might offer clues to what and when they were eating as the seasons unfolded. When they found that Chinsamy-Turan was also examining Alaskan Edmontosaurus fossils in Cape Town with the same questions, the three scientists decided to collaborate. Half the Alaskan fossils got tested at Temple, and half in South Africa.
Fossils of other duck-billed dinosaurs from southern Alberta didn't uncover similar patterns, so the southern dinosaurs were apparently not enduring the same lean winters as the Alaskan dinosaurs.
"We had two sets of animals that were growing differently," said Tumarkin-Deratzian said here.
"It is fascinating to realize how much information is locked in the bone microstructure of fossil bones," added Chinsamy-Turan in the story posted by Temple. "It's incredible to realize that we can also tell from these 70-million-year-old bones that the majority of the polar hadrosaurs died just after the winter season."
Contact Doug O'Harra at doug(at)alaskadispatch.com
For more stories from Alaska Dispatch, click here