Polar bear moms, some cubs swim long distances: study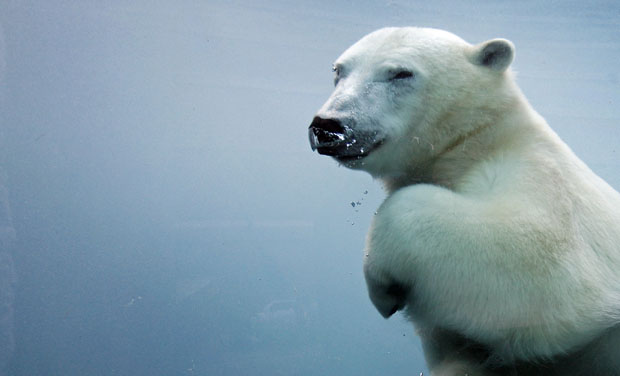 Scientists have long known that polar bears can swim marathon distances, but a new study finds their aquatic endurance better than imagined, with some polar bears paddling nearly 100 miles on average without rest, according to the US Geological Survey.
Adults who were collared in the southern Beaufort Sea weren't the only exceptionally buoyant ones.
Cubs accompanying their moms apparently covered long distances, too, though a brief USGS summary of the report doesn't detail how long those cubs swam.
It was known that polar bears can swim 30 miles or more, but the 2004 to 2009 study by USGS biologists provides a fuller picture after documenting 50 polar bear swims.
The swimming record belongs to a polar bear that swam 426 miles over the course of nine days. That mom's yearling cub didn't make it.
Global warming symbol
The findings could stoke the debate over the fate of the polar bear, a poster animal for global warming that is listed as threatened under the Endangered Species Act. The health of the animal, whose population in the southern Beaufort is considered stable, is closely watched. If its numbers fall dramatically, that may disrupt plans by oil companies to drill Alaska's Arctic seabed.
The new findings suggest the polar bear might be less likely to drown than the media has portrayed, said a press release from the USGS, even as their sea-ice hunting grounds vanish for longer periods each summer and fall.
Then again, the statement added, scientists fear the animals are burning precious calories in their long-distance feats, which may not be good for the animal.
The report's lead author, Anthony Pagano, is quoted in the New York Times commenting on past polar bear drownings that generated headlines. Pagano said those deaths seem related to a strong storm. Pagano could not immediately be reached by the Dispatch on Tuesday morning. He's doing helicopter surveys today, said a USGS spokesman.
In its study, USGS biologists collared female polar bears after tranquilizing them with rounds fired from helicopters, outfitting 52 female polar bears between 2004 and 2009.
"Researchers documented 50 swims with an average length of 96 miles," the USGS press release said. "While long-distance swims were relatively uncommon, 38 percent of the collared bears took at least one long swim."
The findings suggest the bears swam without stopping to rest or feed. Twelve of the 20 swimming bears were adult females accompanied by yearlings or cubs-of-the-year when they were collared.
"We were able to recapture or observe 10 of these females within a year of collaring, and six of these females still had their cubs," said Pagano in the statement. "These observations suggest that some cubs are also capable of swimming long distances. For the other four females with cubs, we don't know if they lost their cubs before, during, or at some point after their long swims."
Unknown is whether the long dips are traditional polar bear behavior, or a relatively recent adaptation brought on by climate change. The technology for the study didn't exist in previous decades.
"However, summer sea ice conditions in the southern Beaufort Sea have changed considerably over the last 20 to 30 years, such that there is much more open water during summer and fall. Historically, there had not been enough open water for polar bears in this region to swim the long distances we observed in these recent summers of extreme sea ice retreat," said Karen Oakley, of the USGS Alaska Science Center, in the statement.
Find the study's results in the current issue of the Canadian Journal of Zoology.
Contact Alex DeMarban at alex@alaskadispatch.com
For more stories from Alaska Dispatch, click here