Elderly flee as floods put Southwest Alaska villages on notice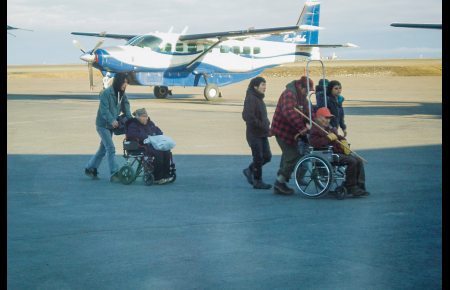 In what may be final death throes of a vicious Alaska winter, communities along the Kuskokwim River are on high alert after spring breakup sent floodwaters pouring into the village of Kwethluk on Monday. 
The worst of the flooding in the Yup'ik village of 740, a short boat ride upriver from Bethel, raced in Monday morning and drained out that evening, sweeping everything it could along with it, said Elia Epchook, a volunteer for the local rescue squad.
The Kwethluk River normally flows into the Kuskokwim near the village, but the Kuskokwim is chocked with ice.
Floodwaters reached three to four feet in parts of Kwethluk, nearly submerging a fire hydrant. But houses and buildings, perched high on pilings for just such events, stayed dry inside, he said.
The annual event known as spring breakup often triggers flooding as river ice and mountainsides melt. "The Kuskokwim is still high water," said Epchook, who spent part of Monday tooling about town in a small skiff ready to rescue anyone needing emergency help. "There's still the risk of more water."
On Monday night, high water temporarily stranded a few people in a village store, but Max Olick, the longtime village public safety officer, said they were not threatened, according to Jeremy Zidek, spokesman with the state Division of Homeland Security and Emergency Management.
With the village's namesake river rising steadily over the weekend, local authorities took the precaution of flying 32 elderly and sick residents to Bethel. They're staying with relatives or in a hotel, Zidek said.
Red cross sent to village
The American Red Cross of Alaska sent two workers to Bethel, 400 miles west of Anchorage, to help care for the evacuees, Zidek said.
Zidek called Kwethluk's flooding "minor," as it has been across Alaska thanks to a chilly spring, allowing river ice to slowly melt. No one's life or safety has been threatened this year, Zidek said.
The peaceful break-up has been a far cry from melt-offs in recent years. Ice slabs and floodwaters roared into Crooked Creek last year and in Eagle in 2009, ripping homes and buildings from foundations.
A flood watch is in effect for communities downriver from Kwethluk until 10 p.m. Wednesday. Residents in those communities — Bethel, Napakiak, Napaskiak and Oscarville — have taken precautions that include filling backup generators with fuel and stocking up on drinking water in case local water systems become tainted by flooding that mixes water with mud, honeybucket waste and other nasty stuff.
As for Kwethluk, the village faces a flood warning until 10 p.m. Wednesday. The Kwethluk River had crested its banks 10 miles upriver from that mouth. But Zidek said the terrain helped with drainage: the region is dominated by flat tundra, providing plenty of territory to disperse the water.
Contact Alex DeMarban at alex(at)alaskadispatch.com
For more stories from Alaska Dispatch, click here