New interactive map details Alaska mining boom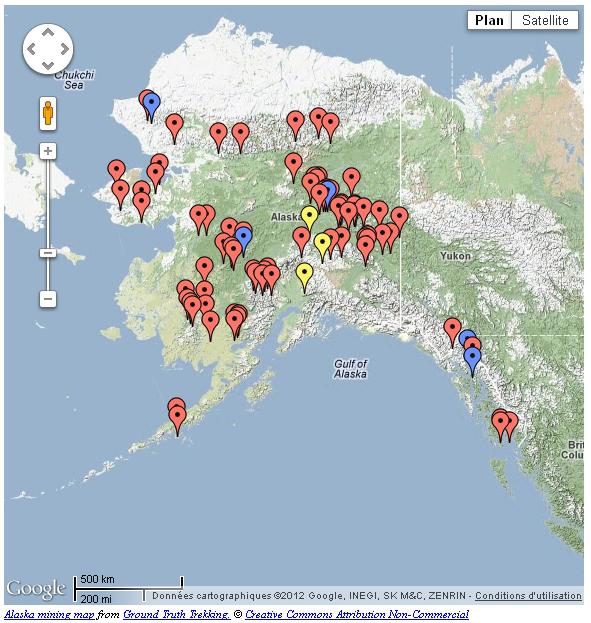 Only a handful of operating mines exist in Alaska, but with the price of gold and other metals booming, more than 75 new mines are proposed, according to a new online map that provides key facts about mineral prospects stretching from the treeless Aleutian Islands to the frigid Brooks Range to rain-soaked Southeast Alaska.
All hardrock mining exploration projects and operating mines in Alaska, (dynamically updated). See the map here
From the Gold Rush era to today's trio of gold-mining reality series, Alaska has long been known for its hardrock dreams.
But just how big is the potential? More massive than you might think.
What we already know is huge. In Northwest Alaska, Red Dog, one of the world's largest zinc mines, continues to expand. In Southeast, gold ore from Kensington Mine helped boost the state's exports to China by $92 million last year. And Pogo Mine near Delta Junction recently announced another big find.
There are also eye-popping prospects, such as the internationally known Pebble mine project, locked in a bitter battle of extremes. Development fans say it could be the continent's biggest gold mine. Opponents say it may destroy the world's most valuable wild salmon fishery. Another big gold prospect, Donlin Gold, is near the middle Kuskokwim River. And state leaders are working hard to promote Alaska's rare-earth mineral prospects to topple China's near-monopoly and provide the building blocks for modern gadgets like cell phones and solar cells.
But those are just the newsmakers. The truth is, where there's a mountain, there's a mine in the making. Our state is chock full of prospects, more than 75 of them peppering nearly every corner of the state.
Mining junkies can thank Ground-Truth Trekking for providing the specifics. The founding couple of Bretwood Higman and Erin McKittrick, known for lengthy treks across Alaska on foot and paddling as well as a unique lifestyle that was featured in the New York Times, has served up an online encyclopedia and map pinpointing existing mines, newly abandoned ones and dozens of prospects.
In an email, Higman said the map project was started to end the mystery for villagers who sometimes were left wondering why helicopters whoop-whooped overhead. The map, and details about each prospect, is a nice burst of reality for those trying to better understand what's happening in the nation's biggest state. It's also a welcome change from the hyped-up world of shows like Bering Sea Gold, Gold Rush Alaska, and the Goldfathers. Maybe all this reality will get lawmakers moving on updating the mining tax, which hasn't been raised in nearly six decades and in 2011 brought the state a measly $140 million.
Conact Alex DeMarban at alex(at)alaskadispatch.com
For more stories from Alaska Dispatch, click here