Crew attempting to row across Arctic Ocean in 'tough spot'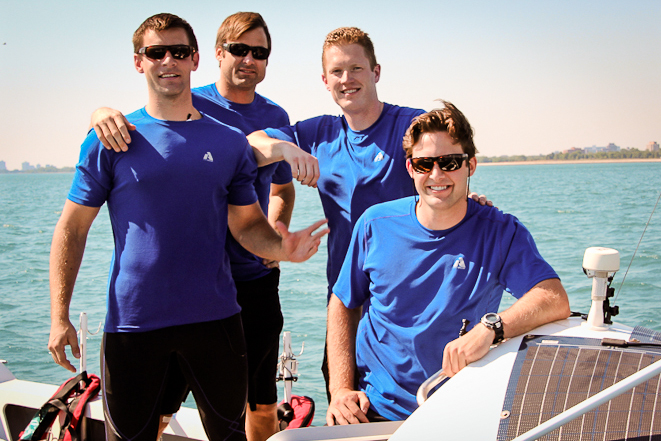 Four rowers in July set out to do something dangerous and unprecedented: to row nonstop, and without support, across the Arctic Ocean, from Northern Canada, across the top of Alaska, and to Russia.
Paul Ridley, Collin West, Neal Mueller and Scott Mortensen are making the attempt — called Arctic Row — aboard a 29-foot-long, 6-foot-wide rowboat.
The crew — which left Inuvik, Northwest Territories on July 17, traveling along the northern shoreline — have arrived at their half-way point. However, that's where the good news ends.
According to the team's blog, things have taken a turn.
The latest entry, posted on Saturday, is titled "A tough spot." A blogger writing on behalf of the crew reports they are anchored about two miles south of Barrow and about 100 feet from shore:
The wind is coming from the south, which is the direction they need to go in, and is strong enough to prevent them making any forward progress. They've made two or three attempts in the last few days, which has only netted them those 2 miles to the south in total. That's frustrating, but wait, it gets worse.
A sever summer weather system is "pushing mass amounts of ice in the direction of Barrow," and the encroaching ice could be a serious threat to the crew's mission, according to the Arctic Row blog. Nonstop and unaided travel without landfall was Arctic Row's original goal. If the ice should threaten the crew, they would have to seek assistance, perhaps endangering their mission in exchange for their livelihood, according to the blog:
They're in touch with the Barrow police department, who could help them pull the boat out of the water if needed. That would allow them to wait out the storm on shore, but doing that would lose them their status as a non-stop expedition, which is important to them, to the world of ocean rowing, and to the record books.
For more on Arctic Row's adventure, checkout their blog and view pictures.
For more stories from Alaska Dispatch, click here