Nunavut, Canada communities celebrate bowhead whale hunt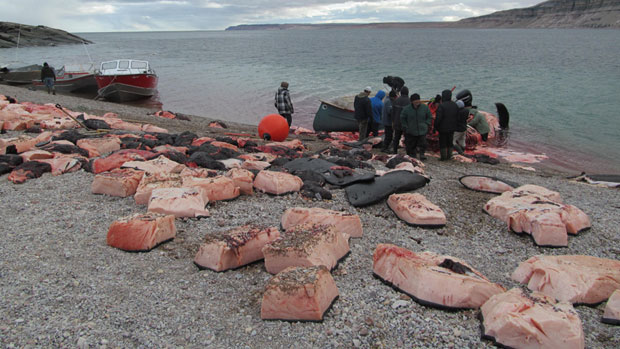 People in the communities of Repulse Bay and Arctic Bay in Canada's eastern Arctic Nunavut territory are celebrating a successful bowhead harvest.
Michael Akkuardjuk, the chair of the local hunters and trappers association in Repulse Bay, said the hunters caught and killed the whale Monday afternoon about 30 kilometres away from the community.
Akkuardjuk boated out to meet them around 5 p.m. local time.
"We got four boats of hunters and on each boat they had four people. And there was one more boat with the safety patrol.
But when I reached them there was a lot of boats there already – they were dragging it back to the community," he said.
Akkuardjuk said the whale was brought back to the community around 8 p.m. for butchering.
He described the bowhead as smaller than those caught in other years – about 27 feet long, or under nine metres.
The muktuk, or blubber, has already been divided up, but butchering the meat will continue Tuesday. Akkuardjuk said this is the fourth successful bowhead harvest in Repulse since 1996. Akkuardjuk took part in the last hunt, which was in 2010.
In Arctic Bay, it took a team of hunters less than an hour to chase the animal and then 35 minutes to kill it.
"When we arrived at the harvest, the hunters were calm and very happy and welcoming, and it was a different scene from other harvests. And some of us had never seen a bowhead before because there had never been one harvested around here," said Jobie Attitaq, the chair of the hunters and trappers organization there.
That whale was almost 30 feet long, or little over nine metres.
Attitaq said most of the hunters were young men, but the captain and the lead hunters were older.
He added that anyone can order the muktuk, but they will have to pay the shipping charges.
Hunt was banned for years
For years, bowheads were off-limits to Inuit hunters as the whale population was believed to be in trouble.
But since the 90s, a limited hunt has been allowed.
Each year, three Nunavut communities are given licenses to harvest one of the massive whales. For some Nunavummiut, it's their first chance to participate in a cultural tradition.
Hunters in the community of Taloyoak are now preparing to head out in search of this year's third whale, but few of them have ever been on a bowhead hunt.
For more northern stories from CBC News, click here