Nunavut gets EU exemption for seal products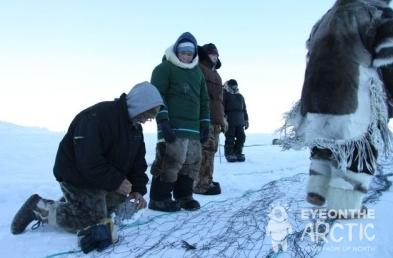 Hunters in Canada's eastern Arctic territory of Nunavut will now be able to sell their seal products in Europe after the Government of Nunavut received a seal-ban exemption from the European Union.
"This is an important step towards the recognition of sealing as a way of life for Inuit, and is the result of close cooperation between the Department of Environment, Fisheries and Oceans Canada, and other sealing stakeholders," said Johnny Mike, Nunavut's Minister of Environment, in a news release on Friday.
"We must ensure that communities benefit in a tangible way from this positive development by continuing to promote the recovery of international seal markets."
Indigenous communities suffer
When the EU ban on seal products came into effect in 2009, it had a devastating effect on indigenous communities around the Arctic.
In previous years, environmentalists launched a worldwide campaign to end the commercial seal hunt.
However, little distinction was made in the various campaigns between the commercial hunt and sustainable hunts by Arctic peoples like the Inuit.
And though there was an Inuit exemption in the original EU ban, the campaign and political and public rhetoric around the new rules nonetheless killed the market for seal products – whether they were produced by aboriginal peoples or not.
For more on how the seal ban has effected Inuit in Nunavut, watch the 2010 Eye on the Arctic video Seal Ban – The Inuit Impact:
Re-establishing income source
The new rules announced last week will allow Nunavut to certify that sealskins from the territory have been harvested according to the exemption rules so they can again be sold in Europe.
The Government of Nunavut says this is a  positive move to rectify some of the damage that has been done.
"Seal populations thrive both in northern and Atlantic waters Harp seal numbers exceed seven million animals with no sign of a declining trend," a Nunavut statement said.
"The sale of sealskins will provide harvesters with an important source of income, and help to improve the economic sustainability of the seal hunt, which provides much-needed healthy food to remote Nunavut communities."
Write to Eilís Quinn at eilis.quinn(at)cbc.ca
Related stories from around the North:
Canada:  Inuit leaders blast EU seal ban as appeal underway in Geneva, Eye on the Arctic
Greenland: What the EU seal ban has meant for Inuit communities in the Arctic, Eye on the Arctic
Sweden: European Sealskin Ban Affects Sámi Handicraft Workers, Radio Sweden
United States:  Landmark Alaska subsistence decision stands, Alaska Public Radio Network