Greenhouse in Canada's Northwest Territories may be model for northern communities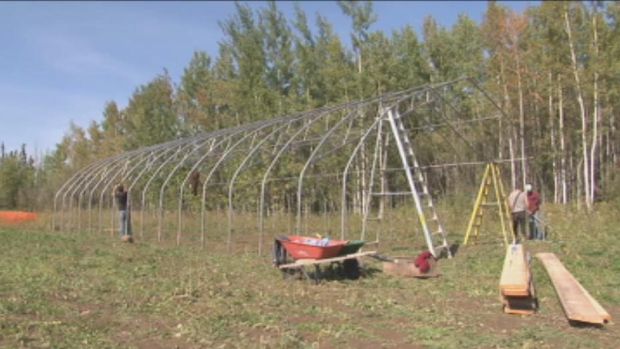 People in the community of Hay River, in Canada's Northwest Territories, have finished building their new community greenhouse.
The 20 metre by 10 metre structure means there will be more fresh vegetables on the community's tables. It's also part of a study being done for Northwest Territories senator Nick Sibbeston.
Jamie Bastedo, an environmental consultant, says Sibbeston is looking for ways to build local economies in the North. "We're kind of literally and figuratively sowing the ability to grow food up here and to make money or save money," Bastedo said.
He said the project has more significance than many people might think.
"Building a greenhouse in Hay River, having other communities learn from that as far north as the Arctic coast. That's enhancing federal sovereignty." Bastedo said.
The president of Territorial Farmers Association, Jackie Milne, has her own greenhouse around the corner. She said there's nothing like salads and other foods made from fresh vegetables.
Milne said a greenhouse can extend the growing season by two months meaning it's possible to get two crops from the garden when most people in the North are happy getting one.
She, too, sees the bigger picture for Northern communities.
"The essentials, the absolute essentials. We have to have the ability to produce those where we are and I am completely convinced that we can 100 per cent feed ourselves," Milne said.
Bastedo said there are many opportunities to increase self-sufficiency in the North.
"If I can combine simple, appropriate small scale technologies and I can add that with that community spirit," he said. "That community knowhow in something as simple as building a greenhouse then I've got something good going," he said.
The greenhouse should be up and running to start the spring season next April.
Related Link:
Food security in northern Canada: The promise of greenhouses, Eye on the Arctic
For more northern stories from CBC News, click here