Social ills keep many on the sidelines of NWT's diamond boom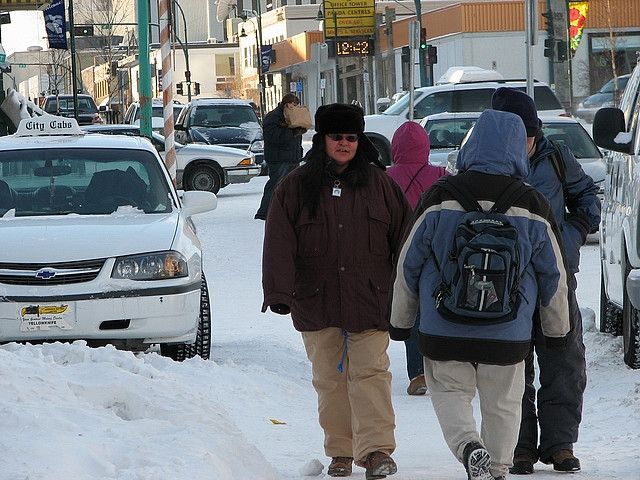 SOMBA K'E/YELLOWKNIFE, Northwest Territories – Chris Aspen's breath already reeked of alcohol even though it was still early in the morning. He and a group of friends huddled outside Sutherland's Drugs, a local pharmacy, killing time and trying to stay out of the biting wind.
The electronic thermometer on Yellowknife's central Franklin Avenue displayed – 34C: not the kind of weather one would think of loitering outside.
But Aspen (not his real name), a Dene man in his mid-thirties dressed in a black and grey snowmobile jacket, sporting a weathered New York Yankees baseball cap over his shoulder-length pitch-black hair, and white snickers on his frozen feet, had nowhere to go: he didn't have a job.
All around him the city was humming with activity. Ever since diamonds were discovered in the Northwest Territories in 1991, Yellowknife, the territorial capital, has become the centre of Canada's diamond mining industry.
British-Australian mining giants BHP Billiton and Rio Tinto, as well as the world's largest diamond producer De Beers have invested billions in the local economy and set up offices in Yellowknife, a couple of blocks walk from where Aspen and his friends stood freezing.
"I do nothing," Aspen said, asking to get inside the reporter's car to warm up. "I apply for jobs. I do odd jobs here and there: shovelling sidewalks, doing labour work, I do anything that's around."
Aspen, who asked that his real name not to be used for fear of alienating future employers, said he used to work as a kitchen help at BHP Billiton's EKATI Mine, about 310 kilometres northeast of Yellowknife.
"Even though the pay was $12 per hour I was happy I had a job," Aspen said warming his hands over the passenger side car heater vents.
But a fight with a security guard got him fired and he hasn't been able to find another job at the mines, Aspen said. His criminal record came up every time potential employers asked for the routine background check.
"It's hard because every time I apply for a bush job, they always ask for a criminal record," Aspen said, "and here I see my white friends working up in the mines with worse records than I got."
The competition for well-paying mining jobs has stocked up racial tensions between many aboriginals and migrants from southern Canada, Aspen said.
"I've been called a dirty Indian, I've been called a bum," Aspen said. "But I see them on Friday and Saturday nights, and they're not better than me: they're loaded."
Aspen said he's just hoping for a second chance.
Mining companies face a manpower challenge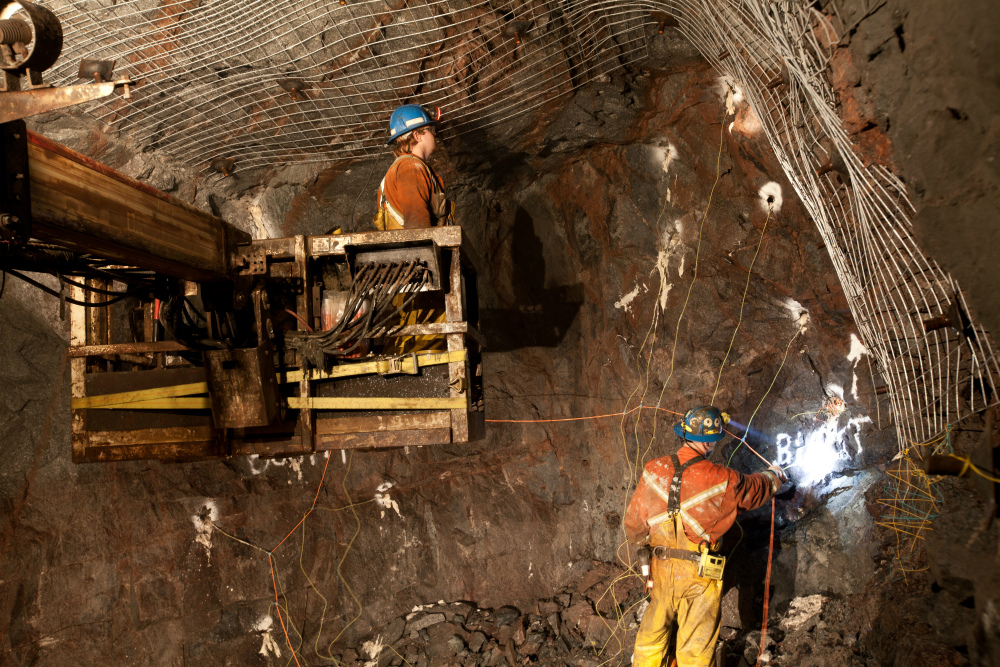 Cathie Bolstad, director of External and Corporate Affairs for De Beers Canada Northwest Territories Project, said all diamond mines have stringent security rules given the value of the product they mine.
Also, mine employees work in two-weeks-on-two-weeks-off shifts in isolated camps that are accessible only by air most of the year, she said. To protect the security of their employees in these isolated camps, the diamond mining companies have a policy of zero tolerance of violence.
Still, having a criminal record doesn't automatically disqualify someone from working in the mines: each case is looked at on the individual basis, Bolstad said.
"We work hard, particularly, with aboriginal communities to educate them that when we do any kind of a security clearance, it is a case by case clearance," Bolstad said. "Because there are people who are working in the high security areas and there are people who are working with absolutely no exposure to the product."
Mining companies have made a huge effort to hire workers from the aboriginal communities, Bolstad said.
At the time when the Snap Lake Mine, about 220 kilometres northeast of Yellowknife, was going through the permitting process, De Beers had estimated that it would need about 500 workers and was hoping that 60 per cent of its workforce will consist of northerners, Bolstad said.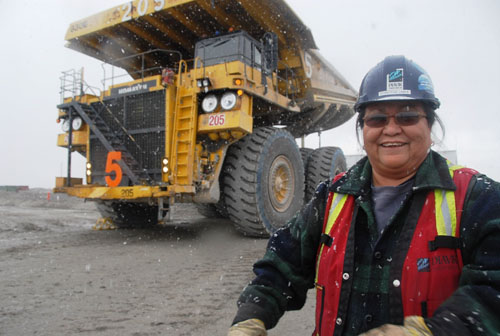 "Right now we're not achieving that 60 per cent," Bolstad said. "We're achieving 37 per cent, but we're actually employing more than 500 people, we're employing 678 people in 2011. And up at Snap Lake we're actually quite proud because 68 per cent of our Northwest Territories residents are aboriginal."
Bolstad said collectively the three diamond mines – BHP Billiton's EKATI Mine, Rio Tinto's Diavik Mine and De Beers's Snap Lake Mine – have trained and employed more Northwest Territories residents than was initially forecasted, Bolstad said.
"Our challenge is, and it's one we share with government, it's attracting people to live in the Northwest Territories: it's an expensive place to live," Bolstad said. "And while we put in place a benefits package to incent people to live here and work here, it's one of our challenges in a highly competitive labour market in Canada."
Coleen English, superintendant for Sustainable Development, Communities and External Relations at Diavik Diamond Mines, said from the beginning of their operations Diavik set up partnerships with aboriginal communities and the territorial government to set up community-based training programs and infrastructure projects to train and recruit workers for the mines.
English said while the company hasn't reached its goal of 40 per cent of aboriginal workforce, the actual number of aboriginal employees working at the mine is far greater than what was originally planned.
"There is a lot more development in the North now, so there are more opportunities for people to work at a number of different places," English said.
There are also challenges in developing skills necessary for working in the mines, she said. As the diamond mines move from open pit mining to underground mining, they are going to have to hire people with a very different skill set, English said.
One of the issues affecting the ability of mines to train and hire more aboriginal workers is the high school dropout rate. While graduation rates in the Northwest Territories have increased dramatically, only 62 per cent of students complete their high school education, according to government statistics.
The mines have had to adjust their entry level requirements in some cases and even create learning centres at the mine sites where employees can upgrade their education, English said.
"And we do go to the schools on a fairly regularly basis as well," English said, "to tell them about the types of jobs in the mining industry, and here's what you need in terms of the level of education. Here's how your salary goes up for every level of education you get, trying to make it a bit more relevant for them as well."