Melted Arctic sea ice extent would cover Canada and Alaska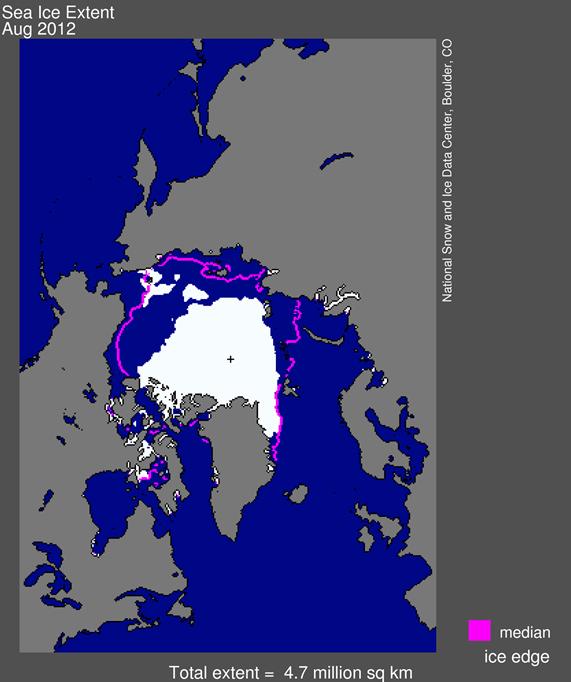 Summer 2012 will be remembered, at least in the U.S., as one of climate extremes:
•June and July were exceptionally dry across the country, with about 63 percent of the U.S. enduring drought conditions.
•July was the the warmest month in recorded history for the U.S.
•And August brought a rapid acceleration in polar ice melt that expanded open waters off the northern coasts of Alaska near the top of the globe.
Indeed, August 2012 ended with the smallest Arctic sea ice cover in recorded history, about 247,000 fewer square miles of ice than in August 2007, the second-smallest extent on the books, according to data released Wednesday by the National Snow and Ice Data Center.
Some 4.34 million square miles of ice cover has thawed since Arctic sea ice extent peaked March 18. That's a geographic area of frozen terrain roughly the size of Alaska and Canada combined.
Only 1.54 million square miles of sea ice extent remains, the smallest average extent since the government began tracking Arctic ice in 1979. And the 2012 sea ice extent will likely shrink further, since melting typically continues at least one more week. Ice begins to reform after that and expands over the long, dark polar winter.
August was particularly warm over the Chukchi Sea, off Alaska's northwest coast, thanks to a cyclone that in places dumped as much as 10 inches of rain — the region averages 15-20 inches all year — warm water that likely accelerated sea ice melt. August averaged about 21,300 square miles of ice loss per day, accelerating to 30,000 square miles melting per day after the cyclone system moved out.
Despite the record melt, the fabled Northwest Passage remained ice-choked as August ended, the snow and ice data center reported.
Contact Eric Christopher Adams at eric(at)alaskadispatch.com
For more stories from Alaska Dispatch, click here