Could Russian woolly mammoth mummy lead to cloning of the ancient beast?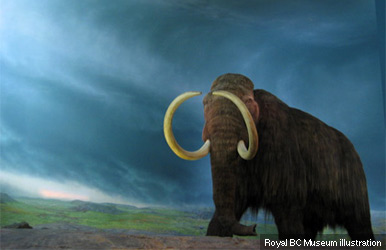 The discovery of a well-preserved mammoth in the Russian Arctic has stirred conversation about the possibility of cloning a woolly mammoth, the Pleistocene-era beast that vanished around the end of the last ice age.
Russian news media reported that the discovery, announced in a press release from Russia's Northeastern Federal University, may contain "living cells," which could bring the cloning of a mammoth closer to reality.
South Korean scientist Hwang Woo-Suk is spearheading that effort, and had previously pledged that a mammoth would be successfully cloned before the end of the decade.
Hwang's record may inspire skepticism: in 2009, Hwang was sentenced for faking stem-cell research and collecting more than $700,000 in grant money in the process.
But Hwang isn't the only one interested in the viability of cloning an ice-age beast. A team of Japanese scientists is working on the same project, and Russia is working with Hwang on the possibility.
According to NPR (via the Associated Press), the newly promising mammoth was discovered more than 300 feet underground in the Yakutia region in northeast Russia, along the Arctic coast. The mammoth even had fur and bone marrow preserved, researchers said, though it will likely take months before the determination can be made if any of the cells are viable.
Russian news organization RIA Novosti reports that scientists remain skeptical about the possibility of cloning a mammoth, even with the recent discovery, due to the breakdown of cellular structure over time.
"The cell structure with nucleus can be preserved under special conditions in deep-freeze," one Russian scientist told RIA Novosti, adding that the instability of the environment, even in the far northern reaches of Siberia, makes such preservation unlikely.
Reuters reports that at least one scientist at Northeastern Federal University feels much the same, saying that it's "unlikely" that the permafrost properly preserved the cells necessary for cloning.
The same region has produced numerous well-preserved mammoth remains in recent years, including the widely-traveled baby mammoth dubbed "Lyuba," which made its way to Alaska as part of a museum exhibit last year.
The cloning process would theoretically be achieved by combining the genetic material from a mammoth with that of its modern-day relative, the Indian Elephant. The X Prize Foundation, which offers prize money for particular scientific innovations, is considering offering a "Jurassic Park" prize for the first person or group to successfully find "a safe, repeatable, and reliable fashion to bring back extinct species to rebuild a population."
Mammoths likely went extinct in Siberia more than 10,000 years ago, though small populations persisted on islands in the Russian Arctic and the Bering Sea for thousands of years more. Their extinction likely came as the result of a variety of reasons, including hunting by humans and reduction in habitat coinciding with the end of the last ice age.
Contact Ben Anderson at ben(at)alaskadispatch.com
For more stories from Alaska Dispatch, click here