Murmansk region welcomes its first EV fast-charger during air pollution spike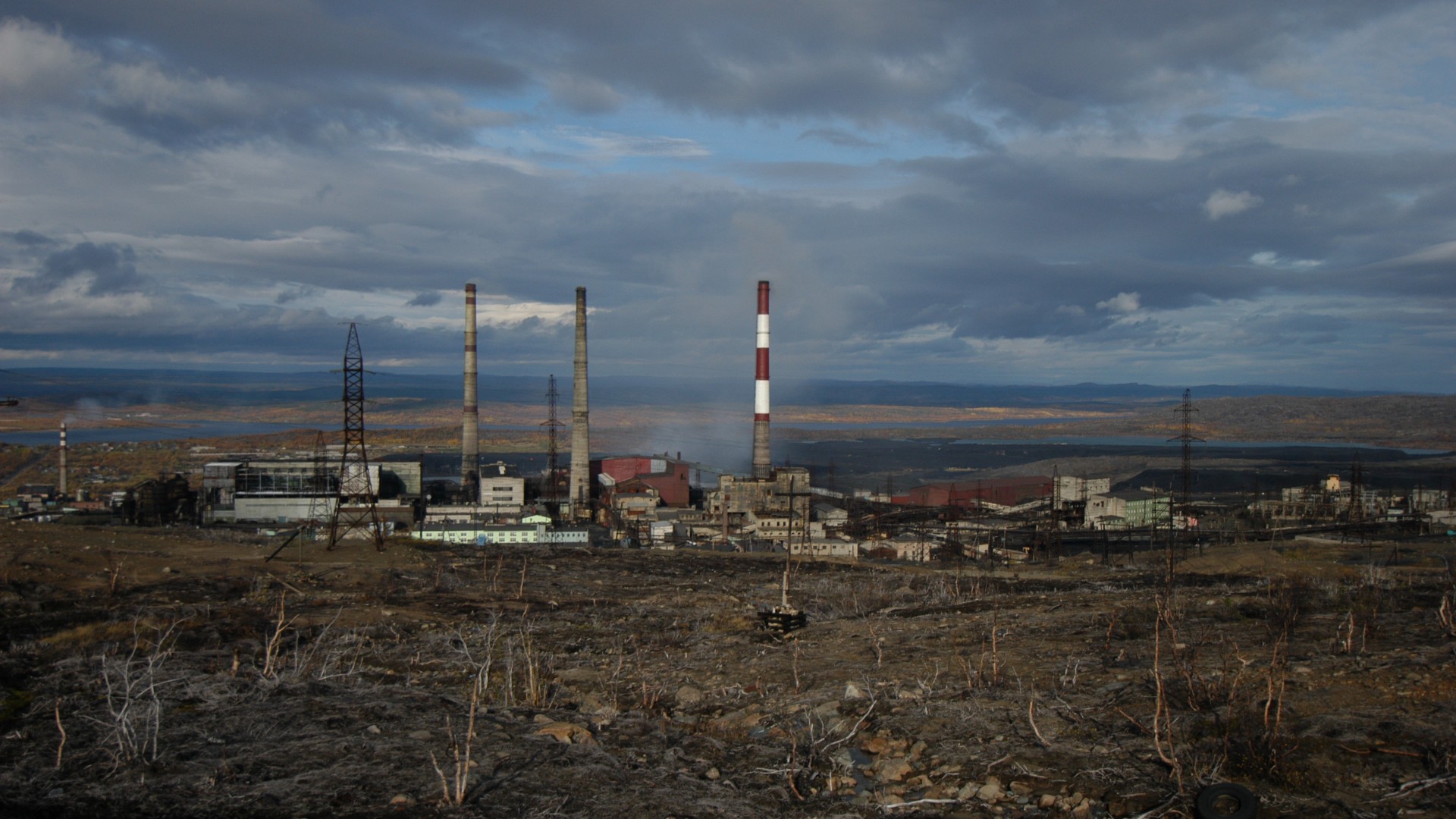 Festivity in the mining town of Zapolyarny, northwest Russia as Nornickel-sponsored fast charger for electric vehicles opened on Thursday. At the same time, sulphur dioxide concentrations spiked to 250 micrograms per cubic meter on the Norwegian side of the border.
The air quality was bad in Norway's north-easternmost region on August 28th and 29th.
With wind blowing more or less directly north from Russia's smelter in Nikel, sulphur dioxide (SO2) and heavy metals spread quickly and the reader at the measurement station at Karpdalen east of Kirkenes started to peak.
"It is sulphur in the air and it will be possible to smell sulphur, but the concentrations are lower than Norwegian limits," explains Tore Flatlandsmo Berglen. He is Senior Scientist with NILU, the Norwegian Institute for Air Research, in charge of the monitoring program for air quality in the border areas to the Kola Peninsula.
"The weather forecast for today and tomorrow says continued wind from the south, so this is expected to last for a while," he says.
A recently published report from the institute tells about several incidents with peaks in pollution on the Norwegian side of the border. Like in January this year, when local authorities had to trigger the alarm bell by sending out SMS to all people with mobile phones in the Pasvik valley area. People with a health issue were told to stay indoors until the air quality got better.
"In 2019 there have been several incidents with concentrations above 500 micrograms per cubic meter at Svanhovd [Pasvik valley], Tore Flatlandsmo Berglen says.
Extreme concentrations are especially occurring during wintertime with little wind and stable air along the ground we see extreme concentrations, he tells.
The situation is worse closer to the smelter. In Nikel, the maximum single concentration of SO2 measured on August 28th and 29th was two times higher than permitted, the Murmansk department of Roshydromet, Russia's Federal Service for Hydrometorology and Environmental Monitoring reported on Thursday.
The agency had then issued a warning to all major industrial enterprises on the Kola Peninsula that current weather conditions could cause accumulated air-pollution near the ground. "Enterprises were given warning to take measures to reduce emissions," Roshydromet's portal informs.
In May this year, air-pollution in the city of Nikel was 10 times higher than maximum permitted concentration, the Barents Observer reported.
The owners of the smelter in Nikel have no lack of money to invest into eco-friendly production. At the annual meeting of shareholders earlier this summer, it was decided to distribute a record $3.7 billion in cash dividends after a very profitable 2018.
Nornickel and its Kola GMK factories cashes in on the boosting prices for copper and nickel, two core metals for production of batteries to the world's fast growing fleet of electric vehicles (EV).
We support the development of #ecofriendly vehicles and make a significant contribution to producing the materials needed to meet global industry demands. Our Finnish site plays an important role! https://t.co/vC4MQaME3H #Nickel #Cobalt #EVs #ClimateCrisis #Sustainability pic.twitter.com/geMv3q1WEY

— Nornickel (@NornickelGroup) June 24, 2019
Forbes recently reported that raw materials for batteries could face a supply crunch by the mid-2020s. A double-digit growth for battery raw materials is expected over the next decade. By 2040, global electric car sales will account for 38% off all new sales, the analysis predict. That is tens of millions of cars requiring nickel and copper.
Nornickel is the world's leading producer of nickel and one of the largest on copper production.
Murmansk region's first EV fast-charger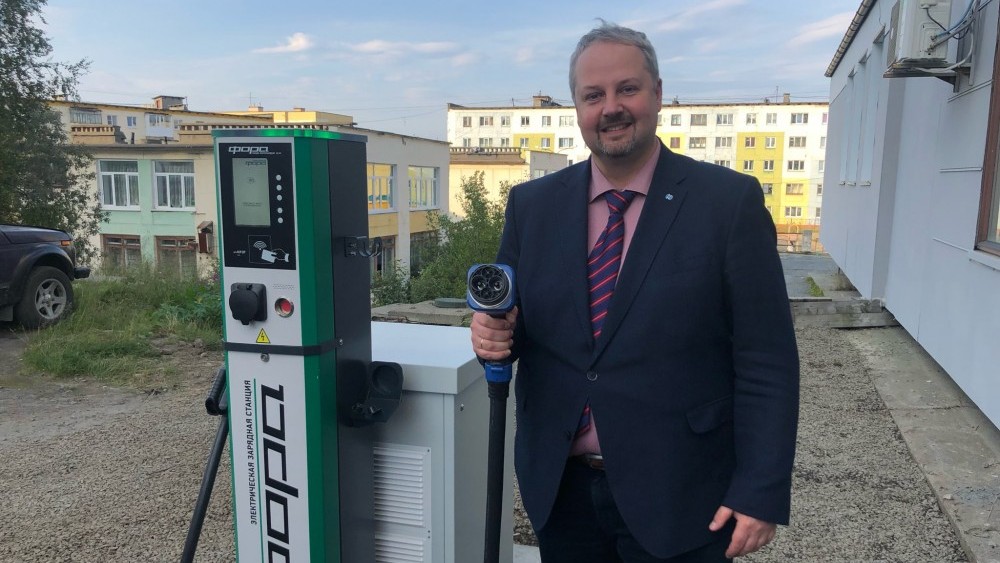 In Zapolyarny, Deputy General Director of Kola GMK Maksim Ivanov was happy to announce the opening of the first fast-charger for electric vehicles in the Murmansk region. In a ceremony on Thursday, a Tesla car with Norwegian registration plates was first to plug-in.
The charger, paid by Kola GMK, is at a key location for EV drivers crossing the border between Norway and Russia in the north. Zapolyarny is about halfway between Kirkenes (Arctic Norway) and Murmansk.
It is the Bellona environmental group that took the initiative for establishing the fast chargers. From before, a so-called Type 2 charger is available at one of the hotels in Murmansk.
Bellona has teamed up with both regional authorities in Murmansk and Kola GMK. Both Deputy Murmansk Governor Yevgency Nikora and Kirkenes mayor Rune Rafaelsen were present in Zapolyarny.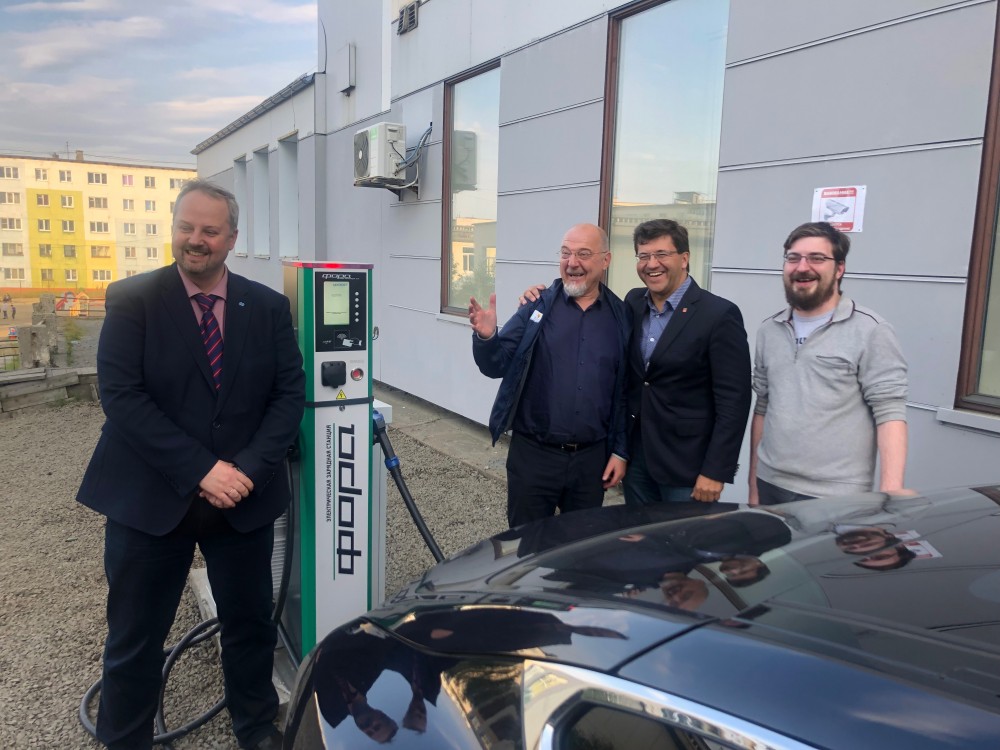 Oskar Njaa with Bellona says to the Barents Observer that the charger now available near the highway to Murmansk is a needed infrastructure making it possible for electric cars to drive between the two countries even mid-winter in extreme cold without fearing to run low on battery.
Njaa, however, is clear on the demands to Kola GMK on drastically reduce harmful emission from the production of nickel and copper.
"Battery producers should, and will undeniably, start looking at the whole production chain, to ensure that the environmental impact of materials they use matches their own products purpose which is an emission free and environmentally sustainable society," Njaa says to the Barents Observer.
"Kola GMK should invite civil society organizations to an active dialogue, with the goal of ending production that leads to pollution," he says.
Note: Anna Kireeva contributed to this story with photos from Zapolyarny.
Related stories from around the North:
Canada: Canada's northern territories among world's most attractive mining regions for investors, survey says, CBC News

Finland: Electric and biofuel buses roll into Finnish cities, Yle News
Norway: Electric car sales skyrocket in Arctic Norway, The Independent Barents Observer
Russia: Norilsk, Arctic Russia is world's largest sulfur dioxide emissions hotspot: report, The Independent Barents Observer

Sweden: Local workforce won't be enough for future battery factory in northern Sweden, Radio Sweden
United States: Recent warming over the past 100 years is not part of a natural process, studies find, CBC News