Sweden's environmental minister tells nuclear plants to boost security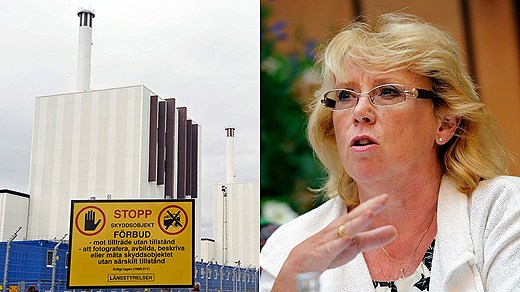 Sweden's Environmental Minister Lena Ek has called for companies Vattenfall and Eon, who run the nuclear plants Ringhals and Forsmark, to shape up on security measures after several Greenpeace activists managed to enter and hide in the plants without being discovered.
"The fact that it is so easy to climb over the fence and get past security is beyond all criticism," Ek told Swedish Radio. "To be honest, I'm very annoyed that these security issues have not been solved."
Ek plans to meet with the Swedish Radiation Safety Authority as well as Vattenfall and Eon on Thursday.
On Wednesday, police arrested two Greenpeace activists who had been hiding in Forsmark nuclear plant since Tuesday. Another four Greenpeace activists were arrested on Wednesday morning for hiding overnight in the Ringhals nuclear plant.
The goal of the activists was to get a comment from the environmental minister, said Annika Jacobsson, the head of Greenpeace Sweden
"This was a peaceful stress test," she said. "We hope that Lena Ek, who is the minister responsible for the safety of the nuclear power plants, will react and close down these reactors, because the security situation is serious."
Related Link:
Quick trial for Greenpeace activists, Radio Sweden
For more news from Radio Sweden, click here