Village in Alaskan Arctic conserves water amid shortage worry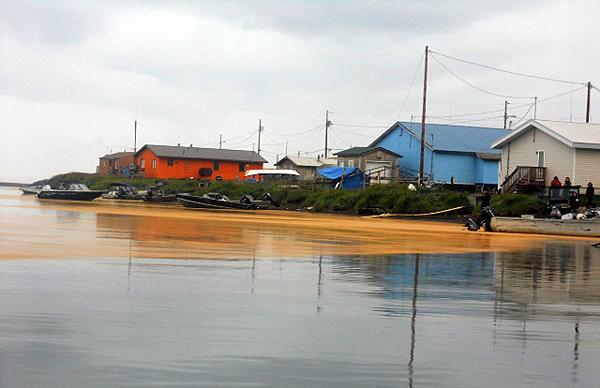 Residents in the village of Kivalina in the Alaskan Arctic, continue to conserve water amidst fears that their water reserves will not last the winter, after massive floods broke the pipe feeding their storage tanks, cutting their usual supply in half.
City Administrator Janet Mitchell says they are "still under stringent water conditions," and will be until spring.
In August, Alaska governor Parnell declared a disaster in Kivalina after heavy rains pummeled Northwest Alaska, causing flooding which broke a pipe connecting the village to its water supply.
The community of around 400 people was unable to fill its two water tanks, which hold around 1.2 million gallons of water for residents to use during winter months.
School was postponed for over a month, as the flooding occurred just before classes were set to begin. The facility is one of the only piped buildings in the area, and having running water in school is an Alaska Department of Environmental Conservation requirement, Mitchell said.
City officials struggled to get the tanks filled up again, in a race against the approaching winter. Although they received a high-powered pump capable of pushing 120 gallons per minute at the end of September, another storm hit, halting efforts to refill the water tanks.
"The temperature dropped immediately," Mitchell said. The pipes slushed up, and they had to use precious time to thaw them out.
In the end, the water tanks were only about half-filled before freeze-up arrived.
Now, Kivalina is facing drastically reduced water supplies. But the price of water has remained the same, at 50 cents for five gallons. Folks pay for and haul their own water. While Mitchell has asked people to be careful, she also says that "they purchased it," and she cannot do too much if people waste the water they buy. But she does "see people who care."
Mitchell also says some of Kivalina's elders have gone back to "the old ways" of getting water, collecting it from the mouth of the river. This means elders are chipping through the ice and gathering wash-water during times when the tide is heading out to sea; if the tide is coming in, the water is too salty. But ensuring the hole in the ice doesn't freeze over is a "big task" for them, she says.
People have also been collecting river ice, which is "pure enough that it's already drinkable" after it melts.
At the school, the principal is on high watch to keep the water usage down, Mitchell says.
The city has also restricted the local laundromat hours and the amount of loads available per person. Folks using the "Washeteria" are limited to two loads per visit, and for bigger families, that can be difficult. But, she notes that there are some entrepreneurs who have their own washing machines and have stepped in to fill the demand by offering use of their machines for a fee.
So what happens if the water runs out? Mitchell says the community is working on getting a 1,000- or 2,000-gallon container that could be used to haul water from the river to the storage tanks. They won't try this strategy until later in the winter, around January, when the ice thickens enough to support a truck and four tons of water. That would take "a lot of cooperation," but it may be their best option.
Though the city is eligible for flood-related expenditures under the disaster declaration, they won't be getting too much reimbursement, given that they didn't have much money to spend in the first place, Mitchell says. But companies that have helped the community, including Teck Cominco, which operates nearby Red Dog Mine, and Alaska Native Tribal Health Consortium are eligible for Homeland Security reimbursements.
Meanwhile, Mitchell has a lot on her plate. Her hours were cut back on July 1 to half-time due to lack of revenue, which she says makes her job even more difficult. She has been working on reports to the Department of Homeland Security and is trying to secure a 1,000- or 2,000-gallon container, adding that the city is looking for possible donations of the item.
Kivalina faces daunting challenges during the months ahead, and only time will tell if they are able to maintain enough water to last until spring.
Contact Laurel Andrews at laurel(at)alaskadispatch.com
For more stories from Alaska Dispatch, click here