Alaska's Columbia glacier expected to stop retreating by 2020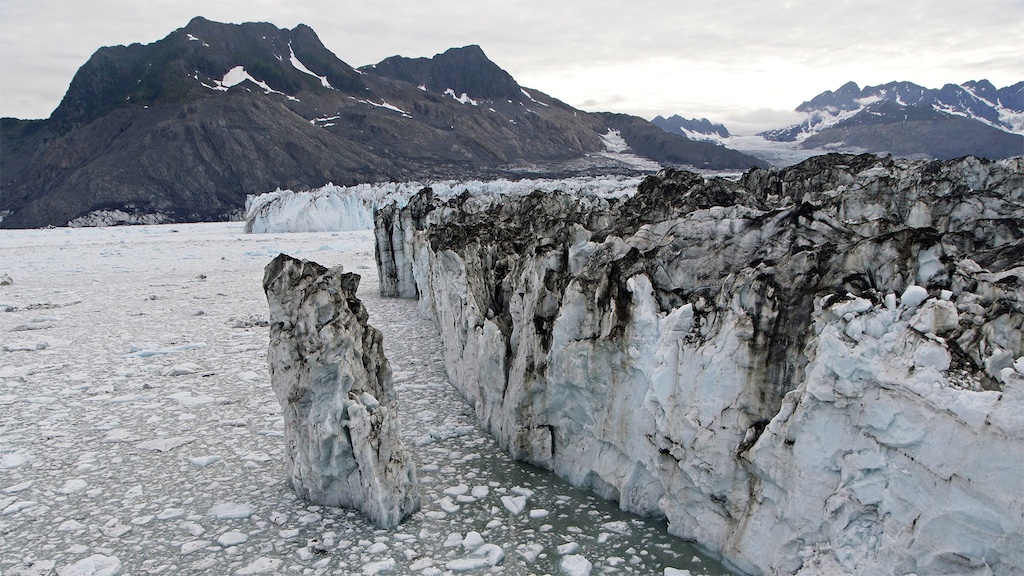 When the Columbia Glacier started to suddenly retreat in the early 1980s, it lost miles of ice almost methodically.
Between 1983 and today, the glacier is estimated to have lost about 11 miles of length and about 62 total square miles where it meets the waters of Prince William Sound, almost 100 miles east of Anchorage.
Now, a study that ran thousands of computer simulations on the glacier's movements has concluded that Columbia Glacier will stop retreating and stabilize around 2020.
The study, conducted by researchers at the University of Colorado in Boulder, NASA, and the Extreme Ice Survey organization, examined Columbia Glacier because of its high profile — the glacier is among the most-studied in the world — and because the ice temperature is uniform throughout the glacier. That's according to the study's lead author, Dr. William Colgan, with UC Boulder.
"An unparalleled observational record exists for Columbia, with several of detailed time series and historical 'snap-shots' of data sets that can be used to initialize and then calibrate an ice flow model," Colgan wrote in an email to Alaska Dispatch from Denmark. "Most glaciers in Alaska have too little observational data to even initialize an ice flow model."
Scientists also keep a close eye on Columbia Glacier due to its effects on sea level — the glacier contributes more to sea level rise than any other in Alaska.
The team ran a total of 20,000 computer simulations of the glacier's past and expected future retreat. Because the parameters of the simulation changed with every simulation, only about 2,700 of those simulations could be considered reliable indicators for the behavior of Columbia over time because the projected present-day model matched the one that researchers were already familiar with.
"In the majority of cases you get a nonsensical outcome, namely a glacier that looks nothing like Columbia," Colgan said.
After analyzing the viable models, the researchers were able to determine that Columbia Glacier will stop receding around 2020 — give or take about two years, Colgan said — at about 26 miles in length. The study goes on to estimate that the glacier will hover around that point until about the year 2100.
The idea that the glacier will retreat for a time, then stop, isn't a new one. A 2005 study found that the glacier had reached about the halfway point in its retreat. Colgan said that the glacier sat on a shallow underwater ridge when it began its retreat, and is expected to stop calving once it reaches a point on the glacier that sits on a similar shallow surface.
Colgan and colleagues expect to next apply similar modeling to some of Greenland's glaciers, which have seen examples of huge icebergs calving in recent years and are undergoing changes similar to Columbia Glacier.
"I expect my colleagues will rightly remind me of this study if Columbia is still retreating in 10 years, but I think that is highly, highly likely it will be over by then," Colgan said. "In terms of larger implications, I suppose Columbia Glacier is characteristic of what is happening to tidewater glaciers around the world, especially in Greenland."
The study appears in the open-source journal The Cryosphere.
Contact Ben Anderson at ben(at)alaskadispatch.com
For more stories from Alaska Dispatch, click here