Will airborne windmills revolutionize rural Alaska's energy supply?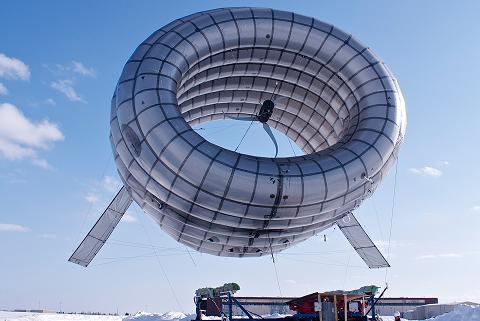 Wind turbines are no strangers to Alaska's energy landscape. Increasingly, communities across the state are turning to them to help add diversity to fossil fuels and to lower costs.
By this time next year, a new type of wind turbine may be hovering in the Alaska skies — towerless and floated inside a high-tech helium balloon to an altitude as high as 1,000 feet.
Boston-based Altaeros Energies has just landed a $740,000 grant from Alaska to give its invention a try in the 49th state.
The company, founded in 2010 by former MIT and Harvard graduates, was one of several to receive funding through the state's Emerging Energy Technology Grant Fund.
From the beginning, we thought (Alaska) would be a perfect test site,"Altaeros co-founder Adam Rein said in a phone interview.
The concept seems straightforward: Raise a turbine to elevations where the wind is more powerful and sustained for a greater energy yield. Rein and his associates hope to demonstrate that their invention – the Altaeros Airborne Wind Turbine – will be less costly to install while providing a bigger return on investment than traditional land-based turbines.
They are also strategically targeting customers they hope to woo: remote villages, military installations, oil and gas exploration sites, large construction projects – anyplace people rely on diesel-generated power. In the United States, that pretty much limits opportunity to Alaska or Hawaii, Rein said.
Why Alaska?
The vast expanses of the Last Frontier seemed like the perfect place to launch the new technology. If the project is a success, Altaeros's Alaska experiment will represent the first commercialized version of its floating turbine.
The company first caught wind of Alaska's potential during a test launch of a smaller model this winter in Maine. Another company with Alaska ties told Altaeros about the state's emerging-technology fund. The more Altaeros learned, the more it seemed like a good fit.
Because most rural communities in Alaska are off the railbelt power grid and rely on diesel generators, many have already turned to wind-diesel combinations in an effort to offset high fuel costs, which are expected to only get more costly over time.
According to the Alaska Village Electric Cooperative (AVEC), a nonprofit electric utility serving 54 communities in Western and Interior Alaska, places like Hooper Bay and Kasigluk have successfully used three 100-kilowatt tower-based turbines to generate up to 20 percent of their power needs.
Another hybrid project on the island of St. Paul in the Bering Sea has saved the community $200,000 a year in utility electric charges and another $50,000 in diesel heating fuel, according to the Renewable Energy Alaska Project, an organization dedicated to promoted alternative energy use in the state. The St. Paul project is a large, industrial-scale 500-kilowatt installation constructed in 1998 by TDX Power.
In Sand Point, another TDX site, wind power is significantly helping offset $4-per-gallon fuel costs. Wind power sells for 16 cents a kilowatt hour, while diesel power sells for 28 cents.
AVEC, which has 34 turbines in various locations, has also seen a rate savings – about 6 cents per kilowatt hour, according to AVEC President Meera Kohler. Finding alternatives to diesel is a long-term investment meant to contain future power costs.
According to Northern Power Systems, which sells mid-size turbines, a 100-kilowatt wind turbine can generate enough energy to power 25-30 homes. How much energy depends on wind duration and speed.
High-altitude hopes
Because Altaeros's units deploy high into the air, to heights land towers can't reach, the company expects to harness more-powerful winds more consistently, allowing it produce more power than turbines on land. Small changes can make a huge difference: If wind velocity doubles, power generation increases eightfold.
Alaska's remote locations with sparse populations and lack of major airport traffic offer the space needed for the airborne equipment to operate.
And, while other companies are looking at ways to harness energy from rivers, Alaska's cold winters make those operations limited to ice-free summer months. Solar panels are less efficient. And, Altaeros's design offers a year-round alternative that's less cumbersome and easier to install than tower-based turbines, which must be anchored deep in the permafrost, Rein said. His company's airborne turbine arrives ready to assemble in a crate, and it can be airborne in a day.
With the grant award, Altaeros is getting closer to turning its space-age concept into useable energy technology.
Intriguing concept
Both AVEC and TDX Power, utility operators at remote Alaska locations, see potential in Altaeros's airborne design.
The wind industry is already trending toward higher towers and bigger turbines to harness more-consistent winds at elevation, said Steve Gilbert, a senior project manager with AVEC. The utility isn't sold on what it's seen so far from Altaeros, but is keeping an open mind.
"The turbine used in the Altaeros Energies prototype is much smaller than the turbines AVEC deploys. However, as a utility tasked to provide reliable energy to members, AVEC is interested in proven technologies that can be maintained in the harsh Alaska environment. In time, we may find that deploying turbines with systems such as these (are) an attractive approach," he said.
"It's definitely an intriguing option," said Martin Miller, a project manager and mechanical engineer with TDX Power, which is helping Altaeros locate its first Alaska test site. "It's an application that has potential for substantial benefit for remote applications in the state."
Aerospace meets energy generation
Altaeros's design for its floating turbine is adapted from aerospace technology applied to wind energy. The shape of the shell is modeled after a jet engine, allowing it to ride the wind instead of getting blown around. And it incorporates elements of tethered balloons and blimps already used in other applications.
In its project pitch to Alaska, Altaeros offered this description:
The airborne wind turbine uses a helium-filled inflatable shell to lift a lightweight turbine 500 to 2,000 feet high, where winds are, on average, five times stronger than those reached by a tower. A conductive cable attached to a trailer holds the turbine steady and sends power to the ground. The lifting technology is adapted from aerostats — tethered blimps used for decades to reliably lift up telecom and surveillance equipment for months at a time in Arctic conditions. The airborne wind turbine operates under existing FAA regulations and requires minimal maintenance.
A small-scale model of the airborne wind turbine was successfully test-launched last winter in northern Maine. The 35-foot-long shell fitted with an "off the shelf" turbine showed its automated ability to lift and land — generating wind both at altitude and resting on its trailer on the ground.
Altaeros plans to start with a 30-kilowatt prototype in Alaska, and hopes to have a 100-kilowatt model available in a couple of years. Larger models may eventually be offered, too. Those goals are in line with Alaska's requirements for funding new energy projects, which must come with a "reasonable expectation to be commercially viable within five years."
The Alaska experiment
Altaeros plans to first test its airborne wind turbine in Knik, Glennallen or Delta Junction. If that goes well, a unit will be shipped to a remote rural village site to show it can be set up rapidly and operate cheaply. From there, the idea is to commission it for two years as a demonstration project while recording data on power production, maintenance needs, and reliability.
Altaeros Energies believes it can significantly undercut the installation cost of the Northwind 100, a common tower-based turbine in Alaska. Altaeros believes its turbine, costing about $700,000, will be less expensive — and may have greater revenue potential since it should be able to generate more power.
The company has tentatively identified such Alaska sites as the island community of Shishmaref, Old Harbor or Eek as prospects for its demonstration project. Where airborne wind turbines finally end up, though, remains to be seen.
Rein believes his company will be able to train one or two locals — perhaps the person who currently runs a community's diesel plant — to maintain the turbines. Designed to last eight years with only small injections of helium every few months, the AWT is intended to be simple to care for. Maintenance checks happen only when the unit is lowered to the ground.
"Part of our goal in developing this technology is to create jobs. We have designed the equipment so that it is very easy to maintain," Rein said.
What could go wrong?
Altaeros is relying on a convergence of technologies to ensure it has a stable, reliable product. But will it be safe? Here's how Altaeros says it expects the airborne turbine to handle some of the challenges it'll face:
•Icing: Special coatings, manual heating or altitude changes may be used to prevent it.
•High winds: The turbine is rated to withstand hurricane-force winds, defined as winds above 75 mph. Higher than that, it will return to the ground.
•Breaking loose: If that happens while aloft, an emergency valve will automatically begin to deflate the shell, allowing it to slowly settle to the ground.
•Interfering with aviation: Like any tall structure, the airborne wind turbine will have lighting and be marked on low-altitude flight maps, to avoid problems with planes.
•Terrorism or vandalism: In military applications, tethered helium blimps are able to withstand gunfire, hardly affected by a single bullet hole and only requiring repair after several such strikes. Rein expects the airborne turbines to be no different.
To ensure the airborne wind turbine is up to par for the harsh weather found along much of Alaska's Western and Arctic coastlines, Rein and his colleagues plan to test the turbine in a more moderate Alaska location before testing it in the extremes.
The company, which has thus far survived on government grants, angel investors and a ConocoPhillips energy award, is offering to match the $740,000 from the state with $620,000 of its own, largely through labor and equipment it will provide.
"It will be a perfect place where we can make a difference," Rein said.
Contact Jill Burke at jill(at)alaskadispatch.com
For more stories from Alaska Dispatch, click here