Sachs Harbour, N.W.T., resident renews call for sport hunting overabundant snow geese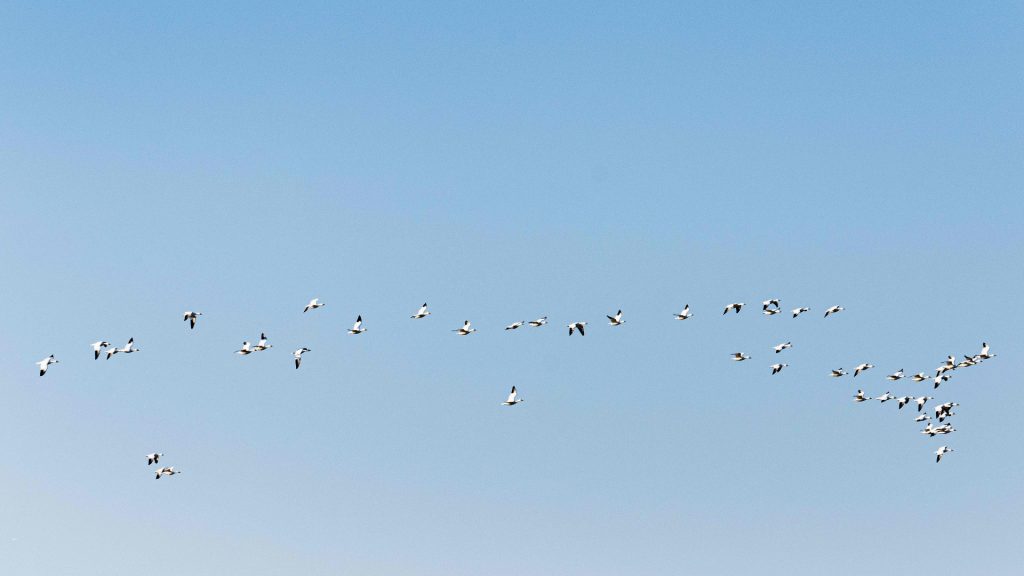 Vernon Amos says the geese will 'eat themselves out of house and home'
In the coming weeks, Vernon Amos says "huge clouds" of snow geese will descend on Banks Island near Sachs Harbour, N.W.T.
"Everywhere you look there are geese and it's like that for three or four days sometimes," he said.
After that, they fly to their breeding grounds further north.
Amos estimates nearly three million geese will flock to the area and he sees the migration as an opportunity for sports hunting.
Amos has been pushing the idea of sports hunting in the area for years. If allowed, he says, there will be both ecological and economical benefits.
With the sheer number of geese, Amos says the population threatens to "eat themselves out of house and home."
He says the geese eat "root and stem and all" rather than just graze vegetation, leaving long-lasting effects on the landscape.
'Overabundant designation'
In 2014, the Canadian Wildlife Service declared the population of snow and Ross's geese as overabundant.
The designation means the number of geese "directly threatens the conservation of migratory birds (themselves or others) or their habitats, or is injurious to or threatens agricultural, environmental or other similar interests."
Current regulations allow for a daily bag limit of 50 birds per day between Sept. 1 to Dec. 10, and again between May 1 and June 30. There are no possession limits.
Amos is now calling for an unlimited harvest of the geese.
"I don't foresee any hunters taking back all of their catches," he said.
Ideally, Amos sees the extra geese being distributed to community members for free. That way residents wouldn't need to take time off to go hunt; it would also alleviate the financial pressures of buying ammunition and food at the grocery store.
"An uphill battle"
Amos recognizes the high cost of even getting to Sachs Harbour, but believes the local beauty and "guaranteed hunt" would be enough to attract sport hunters.
Despite the overabundant designation, the federal government said the restrictions are important in making sure the harvest is sustainable, and it is not considering changing the current rules.
Amos says that isn't surprising, merely "an uphill battle."