Qiviut: Luxury Arctic yarn that almost went extinct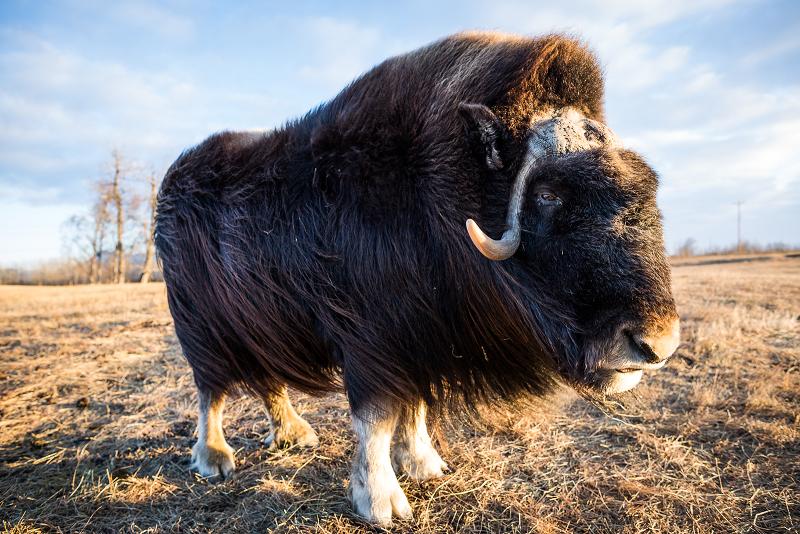 The musk ox, an ancient creature that was nearly wiped out of existence a century ago, has made a comeback in the Arctic, bringing with it one of the rarest and finest fur coats on the planet.
The musk ox's wooly underlayer, qiviut (pronounced "kiv-ee-ute"), is spun into a highly-prized luxury yarn, envisioned as an Arctic cottage fiber industry. Once thought impossible, musk ox domestication has proven successful, and the yarn spun from this prehistoric mammal has been quietly providing Alaska Native knitters with supplemental income since the 1960s.
From nearly extinct to an economic opportunity
Musk oxen were teetering on the edge of extinction at the turn of the 20th century, with a population of just a few hundred in Greenland and Canada in 1917. None lived in Siberia or Alaska. But that year, an international agreement to protect them launched efforts to reintroduce them to areas where they once roamed freely.
In 1930, the U.S. Fish and Wildlife Service brought 34 musk oxen from Greenland to Fairbanks. Five years later, the surviving animals and their offspring were deemed "unsuited to domestication" and released into the wild on to Nunivak Island, in the Bering Sea off mainland Alaska's west coast.
They thrived. In less than 20 years, Nunivak's population had tripled.
In 1953, the Department of the Interior noted the bounty, and an idealistic anthropologist named John J. Teal Jr. decided to try his hand at exactly what others claimed impossible.
Teal was a "dreamer and a thinker," says Sigrun Robertson, executive director of Oomingmak co-operative, which was Teal's brainchild and has been selling Alaska Native qiviut knit goods in Anchorage since 1969. Teal saw an opportunity in domesticating musk ox – but not for their meat. Instead, Teal saw the possibility of creating a fiber industry in the Arctic that would bring income to Native people living in rural areas where economic opportunity was sparse.
"He didn't know anything was impossible, so he went about doing it," Robertson said.
In 1954, Teal captured musk oxen in Canada and transported them to his farm in Vermont. Once they were established in Vermont, Teal set his sights on Alaska. He captured 34 more, and brought them to what was called the Muskox Project in Fairbanks, now the Large Animal Research Station (LARS), which continues to do musk oxen research today.
Teal used unusual techniques to capture the animal. One method was to chase a mother and calf into a lake, follow them with a canoe, separate the cow and calf and then wrestle the calf in the water. It's "not a fun way" to capture animals in the Arctic, Robertson said.
Despite his unorthodox tactics, Teal never killed a cow or lost an animal, at a time when the cows were often shot and the calves collected afterwards, she added.
Teal's musk oxen were moved to various parts of the state before landing at their current home in Palmer, in the Matanuska-Susitna Borough north of Anchorage. The Musk Ox Development Farm, known as the Palmer Musk Ox Farm, and the Oomingmak co-op started up, with qiviut being produced at the farm and being knit and sold by Alaska Natives.
The farm and the co-op existed as one entity until they received a grant from the Kellogg Foundation in the 1980s, which spurred the farm to become the non-profit organization it is today. The co-op remained a for-profit venture.
73 animals at Palmer farm
The Palmer Musk Ox Farm now has 73 animals, with more calves every year. Its mission is "the domestication of the musk ox and the promotion of qiviut production as a gentle and sustainable agricultural practice in the Far North."
The staff is committed to the animals' welfare. In their office, a tiny, sawdust-filled cottage, staffers crowded together last week as the wind howled outside and a small wood stove crackled in the corner. Executive director Mark Austin explained why the musk ox is a "very unique critter."
An ancient animal, the musk ox lived alongside mastodons during the last ice age. They've "been out on their own branch of the family tree for about a million years," Austin said, adding that their closest relative is either the Asian goral, a type of mountain goat, or the North American mountain goat.
Eating twigs for months
With one of the most efficient metabolisms in the world, and fur highly adapted to the cold, musk oxen "could get stuck on top of a little hilltop in the arctic for months and nibble on sticks and twigs," and be fine, Austin said.
He explained that their long evolution has allowed an adaption to the cold that produced an "amazing fiber." Qiviut is about eight times warmer than wool, softer than cashmere and finer than the best Merino wool. It has no barbs like sheep's wool, so it doesn't shrink in hot water, allowing it to be handwashed easily. It is not itchy like wool and is hypoallergenic –very few people having allergic reactions to the yarn.
A musk ox sheds 4-8 pounds of qivuit each spring, which, for a mammal weighing up to 1,000 pounds, is minimal. By contrast, a Peppin Merino ram, bred to produce abundant amounts of wool, can produce up to 40 pounds annually. Limited production keeps qivuit rare.
At the Palmer farm, musk oxen are combed in May, and the soft underlayer of qiviut is separated from the shaggy outer "guard hair." After combing the musk ox, the Palmer Farm usually sells the product to the co-op; this year, they still have 150 pounds of qiviut for sale.
Ooomingmak Co-op is located in a small cabin in downtown Anchorage, where it has been since the 1970s. Oomingmak (the Yup'ik word for musk ox) has several sources of qivuit: LARS in Fairbanks, the Palmer farm, and a small portion from villagers who gather the fiber of wild musk oxen from fences and brush, which the animals scratch against during molting.
Around 250 Native Alaskan women from remote coastal villages own the co-op. For a mere $2 a year, co-op owners receive membership, needles and spun qiviut ready for knitting. Right now, around 100 women are active members.
What helps make the co-op unique is that it is not based around consignment. When the co-op receives completed knitwear, it immediately cuts a check and sends it to the knitter — even before the garment sells. At the end of the year, knitters also receive a dividend based on annual sales and the number of garments they knit.
Officer manager Marie Texter said that the co-op helps "fill a need," in areas where job opportunities are limited. Some of the elderly ladies have never been employed, so they don't receive Social Security payments. Knitting is key in helping them to stay financially stable. Most of the knitters are from coastal villages across the state. Each region has its own design the women are allowed to knit. There is also a "Snow and Tundra" design, which uses a blend of qiviut and silk. Non-native rural Alaskans can only knit the Snow and Tundra line.
When asked whether the co-op would look to expand in coming years, Robertson said that it "has its niche," and will continue to provide its service to rural Alaskans in need.
Obstacles to the industry
John Teal envisioned qiviut to be a truly Arctic industry. But even though musk oxen are thriving in the Arctic and qiviut fiber is highly prized, money is an obstacle in developing what could be a burgeoning Alaska fiber industry.
Windy Valley Muskox in the Mat-Su was Alaska's sole commercial musk ox farm for a decade, until its owners sold the property in 2010, along with their 13 musk oxen, two years ago. John Nash, a Windy Valley co-owner, says the company will still sell qiviut yarn to customers across the world, but only using fiber sourced from a wholesale outfitter in Canada called Jacque Cartier.
For those 10 years, Windy Valley bought its fiber and spun its own. But, Nash said, it was "too expensive to take our fiber and turn it into yarn" due to rising fuel, fertilizer and feed costs.
He doubts Alaska can develop a major fiber industry anytime soon. With so little qivuit produced, and no processing facilities in the state, he says that Alaska would be hard-pressed to compete with the amount of qivuit that comes from Canada.
Even though qiviut will likely not grow to become a major industry in Alaska, it is making an important impact to the lives of people around the state, as a research animal, domestication project and cottage-industry that helps to supplement incomes of rural Alaska Natives.
Contact Laurel Andrews at laurel(at)alaskadispatch.com
For more stories from Alaska Dispatch, click here