Will Shell's grounded drilling ship impact US energy policy in Arctic?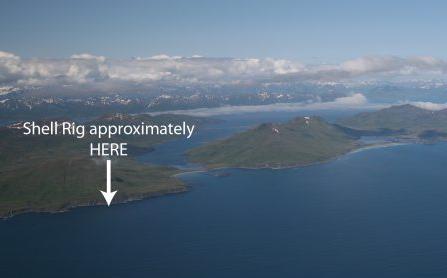 As Royal Dutch Shell struggled Tuesday to salvage a fuel-laden drilling ship grounded on a remote Alaska island, the incident reverberated thousands of miles away in Washington, D.C., with President Barack Obama's staff monitoring the situation.
In a high-stakes gamble to tap billions of barrels of oil in Alaska's Arctic, all eyes are now on Shell as it tries to gain control of an out-of-control drilling rig that grounded New Year's Eve on the rocky shores of Sitkalidak Island, located near southeastern Kodiak Island.
U.S. Coast Guard Capt. Paul Mehler, who was heading up the response for his agency, said the drilling ship Kulluk appeared sound as of Tuesday afternoon, with no breaches to its hull. The rig's fuel tanks, for generators and other pieces of equipment, are holding 143,000 gallons of diesel, and there are no signs of any spills, he said.
A White House source said that Obama's staff was aware of the situation and was monitoring it on New Year's Day, highlighting the national implications of Shell's mishap and what it might mean for U.S. energy policy.
Shell and other oil companies hold leases to conduct exploratory oil and gas drilling in vast swaths of the Arctic Ocean above Alaska. The issue has been contentious for years as environmentalists and some Alaska Natives argue that oil drilling is too risky in the fragile Arctic ecosystem.
RELATED: Arctic Ocean vs. ANWR — a tale of two oil fields
Shell has invested more than $4.5 billion since the mid-2000s in a quest to reignite a controversial Arctic drilling program that it started in the 1980s. But from lawsuits to mishaps like the grounding of its Kulluk drilling ship this week, the Netherlands-based oil giant has seemingly faced one problem — one more delay — after another.
The $290-million Kulluk and its tug weren't operating above the Arctic Circle when the problems started late last week. And the Coast Guard's Alaska headquarters at Kodiak are located relatively nearby the grounded Kulluk, making response efforts easier than in the Arctic, where the agency has no base.
What would happen if similar troubles ever occur in the much more remote Arctic Ocean? No one involved with the recovery would speculate Tuesday.
Salvage crews awaiting better weather
The Kulluk's troubles started Thursday as it was being towed from Alaska to the Lower 48 for the winter drilling off-season.
A tow shackle failed between the drilling rig and its tug, Shell's Aiviq. A second towline was attached, but later the engines on the Aiviq failed, leaving the two vessels adrift at sea. The 266-foot diameter Kulluk has no propulsion system of its own.
Over the next several days, the tugs struggle to hold on to the Kulluk. By Monday, rough seas and more problems forced a tug crew to let go of the Kulluk, sending it drifting into the rocky shoreline of Sitkalidak Island.
Sean Churchfield, Shell's Alaska operations manager, didn't know why the towlines or the engines failed. All were inspected upon leaving Dutch Harbor Dec. 21, and Churchfield said the lines were good to rated strengths.
He said a tow plan was submitted to the Coast Guard before the vessel departed from Dutch Harbor, with weather taken into consideration. However, the trip across the Gulf of Alaska was expected to take three to four weeks. Ultimately, weather dictates the course of travel, and attempts to avoid bad weather are taken, Churchfield said.
While there is a general contingency plan in place in the event of a towline failure, Churchfield couldn't say whether there was one prepared for two towline failures and an engine failure aboard the Aiviq.
"It seemed an unlikely scenario that all four engines would fail simultaneously," he said.
Steve Russell, on-scene coordinator with the Alaska Department of Environmental Conservation, noted there is an emergency tow system, with vessels and crews ready in multiple Alaska ports to assist in the event of a lost towline. However, dispatching the system required the ability of crew to board the Kulluk while at sea, an impossible scenario given the hurricane-like seas.
Whether or not the Aiviq was equipped with an automatic winch system, which would have automatically loosened the tow line, is unclear. Also unclear: Whether it would have mattered.
"In those weather conditions, I don't know what would have made a difference," Coast Guard Capt. Mehler said. The number-one priority for the vessel is salvage now, Mehler said. Two salvage crews attempted to board the Kulluk Tuesday but were forced to retreat by bad weather.
Seas are expected to calm slightly by tomorrow. The National Weather Service expects seas of 14 to 15 feet through Wednesday, with winds up to 40 mph.
Critics begin to gather
Critical reaction was swift Tuesday from environmental advocates and Alaska Native leaders who oppose Shell's arctic drilling operations. Oceana, an ocean conservation group, cricized Shell's preparation and planning efforts, adding that while the oil company would reap financial benefits of drilling, Alaskans would be left dealing with a potential environmental disaster.
"This grounding should serve as the tipping point to show our government that we are not ready to drill in the Arctic Ocean," Susan Murray, Oceana deputy vice president, said in a press release issued Tuesday.
On Monday, a handful of people protested the Shell operation in Alaska. Carl Wassillie, a Yup'iaq biologist with the Alaska Big Village Network, organized the protest, and wasn't surprised when the Kulluk ran aground.
"We keep seeing a pattern of disrespect by Shell Oil," Wassillie said. "They keep trying to say they're doing safe operations but this doesn't seem safe."
The Kulluk's grounding will likely influence opinions that Shell officials have carefully shaped to support their drilling plans, including flying hundreds of times to Alaska Native villages across Alaska's Arctic to develop local favor.
Alaska Native people who hunt seals, whales and walrus for much of their food in the same seas Shell has been exploring for oil might raise the biggest concerns, and that could influence the Obama administration and Interior Secretary Ken Salazar, whose agency must approve Shell's plans to drill into oil-bearing zones next year.
The Kulluk incident is only the latest in a string of missteps to befall Shell's quest to open the Arctic for oil development.
The oil giant has paid big bucks to build unprecedented new equipment, and Shell spokesman Curtis Smith has taken pride in a response fleet he's called "second to none" and in an operation that he believes overall has met "the gold standard."
Yet Shell has also engaged in costly and time-consuming renovations to decades-old vessels that are tasked with playing key roles in the exploration.
Problem-plagued Noble Discoverer
On Dec. 27, just a day before the Kulluk's recent troubles began, news broke that the Coast Guard had for weeks detained Shell's other Arctic Ocean drilling rig, the 570-foot Noble Discoverer. That self-propelled, 47-year-old rig had serious issues involving safety and pollution-prevention systems. Coast Guard inspectors noticed the problems after the Noble Discoverer limped into the town of Seward, Alaska, under tow with its propulsion system apparently not working properly.
The Discoverer may have damaged a propeller while traveling toward Dutch Harbor in the Aleutian Islands this fall. The Noble Discoverer and the Kulluk were returning from the U.S. Arctic Ocean after conducting preliminary well work at two Shell prospects.
Neither the Coast Guard nor the ship's owner, Noble Corp., would comment in detail about the drilling ship's specific problems. The Liberian-flagged ship — built as a log-carrying ship in 1966 and eventually converted to a drill ship — has been beset by other problems, too.
The vessel drifted on anchor in Dutch Harbor before heading to the Arctic this summer. Some residents in that small Alaska port contended the ship had briefly grounded, but Shell officials said it never beached.
In November, after it had returned to Dutch Harbor from the Arctic, the Noble Discoverer suffered a flash fire in a smokestack.
In May 2011, the vessel was detained in New Zealand for several other safety issues, including failing to show evidence of adequate staffing, the LA Times reported. And that came two months after three anchor cables snapped during a storm off the New Zealand coast, where the Noble vessel had been drilling in 2011, said the Maritime New Zealand, a government agency, according to The Associated Press.
From bird nest to containment barge
Shell's Arctic drilling dreams were held up in summer by a different old vessel and an ambitious new "containment" system Shell designed to suck up spewing oil.
Shell had hoped to drill five wells in the Arctic in the summer of 2012, but the job of renovating the 36-year-old ice-breaking barge — Arctic Challenger — took longer than expected. And the containment dome failed miserably in a September test before federal regulators, putting the final nail in Shell's bold summer dreams. In the end, they were limited to conducting preliminary well work and early-stage drilling on only two wells.
Shell had volunteered to use the 300-foot Challenger and the containment dome as a final backstop to prevent an oil catastrophe. The idea is that in the event of a spill, the dome could be lowered into the water like a giant vacuum cleaner to suck up spewing gas and oil. The hydrocarbons would be directed above the surface in hoses, and the oil and gas would be separated from the water on the barge.
But the company didn't win approval to operate the barge until October, when the U.S. Coast Guard and the American Bureau of Shipping signed off on it.
The refurbishment delays wouldn't surprise anyone familiar with the Arctic Challenger's history. After delivering equipment in the 1970s to open up Prudhoe Bay, the nation's largest oil field, to development, the old icebreaker sat idle for years.
It ended up near Los Angeles, doing nothing for so long that birds turned it into giant nest and the deck was slathered with close to an inch of bird feces and other gunk. During the nesting season in 2007, California wildlife officials concerned about the welfare of fledgling Caspian terns temporarily turned it into a protected bird rookery.
Even after renovations to the Challenger, Shell's engineers were still struggling to make the containment dome — the vacuum cleaner on the oil-containment system — work properly during testing off the shores of Washington state.
In September, the dome was crushed when a valve failed and the dome shot toward the bottom of Puget Sound. The rapid descent crushed the dome "like a beer can," in the words of a federal regulator. Shell issued a press release after the failed tests announcing it would suspend plans to drill deep enough to reach hydrocarbon-bearing zones.
In the months since then, Shell and contractors in Seattle have worked feverishly to strengthen the containment dome in preparation for another round of testing. Federal regulators say they still need to observe the dome working before Shell can drill into oil-bearing zones.
Despite Shell's delays and troubles, Pete Slaiby, vice president of Shell's Alaska operations, in October blamed an "inefficient" federal regulatory system for many of the company's delays. In a look back at Shell's 2012 drilling season, provided as written testimony submitted for a field hearing of a U.S. Senate panel, Slaiby largely focused on ways the federal government could make drilling happen more quickly.
Now the company must reassure Alaskans and Americans alike that it can operate safely at the edge of the earth as it salvages its grounded drilling ship from a far-flung, sub-Arctic island.
Related Links:
• Video: Waves crash on grounded Kulluk
• Photos: Kulluk mishap and Shell's drilling fleet
• Arctic Ocean vs. ANWR: Was there ever a choice for drillers?
Tony Hopfinger contributed to this story. Contact Alex DeMarban at alex(at)alaskadispatch.com and Suzanna Caldwell at suzanna(at)alaskadispatch.com
For more stories from Alaska Dispatch, click here