Families still awaiting closure as military dissects 1952 Alaska glacier crash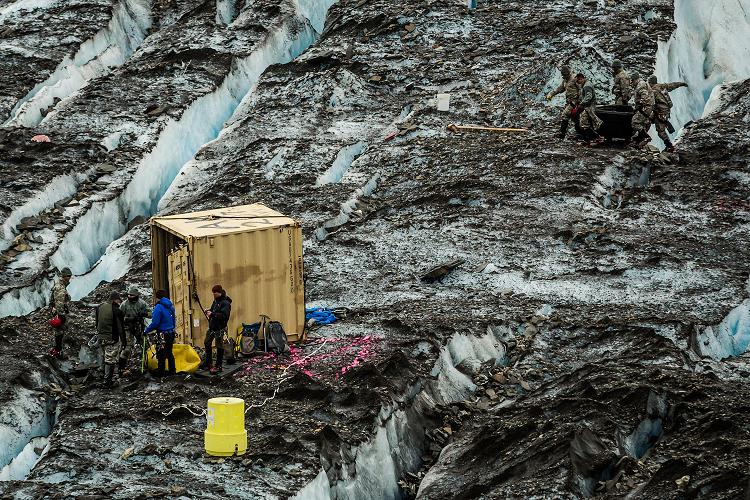 When news came last summer that old airplane wreckage discovered on Colony Glacier belonged to a massive C-124 Globemaster that crashed in 1952 with 52 members of the armed services aboard, it offered closure to some family members who had spent decades wondering about the fate of their lost loved ones.
Now, six months after the initial discovery, relatives wait for a different kind of closure, hoping that some of the remains recovered from the wreckage — scattered on the glacier about 50 miles east of Anchorage — might belong to their long-lost brother, uncle, or father.
The wreckage, first spotted on June 10, 2012, by members of the Army National Guard on a training mission, had been spit out by the churning glacier after 60 years. It was known that the C-124 — a massive cargo a crew transport plane — had crashed into Mount Gannett above the glacier in 1952, but the shifting ice and rough weather in the area prevented any rescue or recovery efforts until it was too late.
All 52 souls aboard were lost.
After an investigation by the Joint POW/MIA Accounting Command (JPAC) was able to determine that the wreckage was indeed from that 1952 crash, those who had family members aboard sent in samples of their DNA, hoping that their loved ones might be among the human remains discovered among the airplane skin, survival packs, twisted metal and other debris spread atop the glacier's craggy surface.
Now, they still wait as the military has worked to track down surviving family members for everyone who had been aboard the flight. In the meantime, some families have received tokens from the aircraft itself, pieces of the plane or the contents of those yellow survival kits that never got used.
Tonja Anderson lost a grandfather she had never met, Isaac Anderson, in that crash. She said after the initial announcement that the results of the analysis of the human remains recovered from the crash could take up to a year. Still, she said, it was "frustrating" to have to continue waiting to know if her grandfather was among those with remains recovered from the site.
"It's been 14 years for me trying to figure out what happened, and it's very frustrating at this point to know that they're sitting on something," Anderson said. "I want to understand. I want to try to understand."
Despite never having the opportunity to meet her grandfather, Anderson felt a pull to discover more about the crash and circumstances of his final resting place. She is the founder of a Facebook page dedicated to information about the Globemaster crash, and has brought together family members of those who were aboard the flight.
Anderson said she understands why the DNA analysis could be taking so long, but expressed hope that any personal effects recovered with the remains might soon be returned to the families to whom they belong.
Little Rock, Ark., resident Kevin Caid lost his uncle Robert Van Fossen, in the crash. Caid, who was born in 1958, never had the opportunity to meet his uncle, but also felt compelled to dig for information on the crash that had taken his life.
Caid's mother, Van Fossen's brother, took a trip to Alaska around the turn of the new millennium and got to see Mount Gannett, which her brother's plane had collided with a half-century earlier. But she wouldn't live to find out if she was one of the lucky survivors who would get to finally lay their family member to rest.
Caid said that although his mother had a stroke about six years ago, she remained fairly alert and reacted positively to the news of the plane's discovery last year.
"Unfortunately, she passed away a few months later, in September, so that's a little bit of a disappointment," Caid said.
Follow-up mission
Perhaps adding to the uncertainty of the DNA analysis is the possibility of returning to Colony Glacier this coming summer, after the snow has melted. If the glacier's movement had exposed more debris, another mission might be mounted to recover further wreckage and possible remains.
According to Capt. Tania Bryan, a spokesperson for Joint Base Elmendorf-Richardson, a military base about 40 miles south of Colony Glacier, the glacier face had more or less been wiped of debris by the time the recovery operation on the glacier was suspended. Another flyover this spring or summer might reveal if there is further material turning up.
"We left it with a clean slate, so if we go back out there, we know that it's all new material," Bryan said. She said that the increasing instability of the glacier stopped all operations on Sept. 11, 2012, about 3 months after the recovery began.
JPAC took custody of all the human remains in their quest to match them up with the appropriate surviving relatives via mitochondrial DNA analysis.
Mitochondrial DNA is inherited only from the mother, making it a bit trickier to track down surviving relatives of the 52 men aboard the C-124. That's because any man aboard the plane wouldn't have children who share his mitochondrial DNA, since it came from the mother. That means finding another relative, like a brother or sister from the same mother, is necessary to determining what mitochondrial DNA genes scientists should be looking for.
JPAC spokeswoman Jamie Dobson said that JPAC anthropologists rely on mitochondrial DNA because it's more stable, but extracting viable DNA from the remains can also be problematic.
She said that the bulk of the first phase of identification has just been differentiating one piece of remains from another, and concluding that they either came from the same person, or two separate people.
"If the remains are co-mingled," as they were in the case of the airplane wreckage, Dobson said, "what we would first need to do is separate them out into individuals. When we start to get to the point where we have identified how many individuals we've recovered, we want to determine a biological profile — what was their age approximately at the time of death? How tall were they?"
The answers to those questions are still pending — Dobson said she had yet to see any positive identifications from the remains recovered at the debris field.
Some form of closure
In the meantime, all of the other debris — everything outside of the human remains and personal effects — from the aircraft fell to JBER to deal with. Initial plans were to just scrap most of the debris, which had been, in many cases, ground into nearly unrecognizable parts by the movement of the glacier. But family members anxious to obtain some token of the tragedy that killed their relatives began requesting parts of the plane.
Tonja Anderson came to Alaska in September and flew out to the site where the debris had been located, and was able to spot a few pieces here and there, and got to see Mount Gannett for herself. JBER representatives allowed her to view some of the debris that had been recovered, which is when Anderson mentioned that some families were hoping to acquire a piece of the plane.
"I coordinated with Alaska and the Air Force," Anderson said. "I knew they were going to demilitarize the actual pieces and give it away as scrap metal, so I stressed that there was a strong interest in these pieces. They worked with me and got the pieces to those families.
"It was well worth it," she said.
Capt. Bryan said, all told, 91 pieces of the C-124 and other debris from the site were shipped out for distribution to still-grieving families.
Kevin Caid got a couple of those pieces, and he praised the military for going out of its way to accommodate the families of the men who died in the crash.
"I can't even begin to say how amazed I am at how they handled this," Caid said.
Caid said that he'd communicated with distant relatives he previously didn't know he had until after the news of the crash recovery was made public. Anderson said that she's heard from numerous people who also lost family members in the crash, and is now friends with several.
So while not everyone will be able to finally lay their fathers, uncles, brothers or husbands to rest, most have gained some other, less tangible closure from the recovery of the glacier wreckage. Caid said that sometimes that's the most you can ask for.
"If you do end up being one of the ones they call, that's fine. If you don't…well, I got to do something for my mom," letting her know that they'd finally found the plane, he said. He said he could tell that the news had made an impression on her.
"You could just kind of see it on her face," he said.
Contact Ben Anderson at ben(at)alaskadispatch.com
For more stories from Alaska Dispatch, click here